Over the weekend, The New York Times ran a story that observers had been awaiting ever since her terse, righteously angry statement when she was asked about sexual misconduct on the red carpet back in November: The full story of why Uma Thurman burns with white-hot rage when she hears the name "Harvey Weinstein." In the article, Thurman describes not only being attacked by Weinstein in a Paris hotel room shortly before filming was to begin on Kill Bill, but the car crash on the set of the film that permanently ruined not only her neck and her knees, but her trust in Quentin Tarantino, who she had once considered a friend and collaborator.
That article, written in the fawning style of a celebrity lifestyle piece by Maureen Dowd, concentrates on the damage the crash did to Thurman and Tarantino's relationship, adding that Tarantino performed scenes where the actress is choked and spit on in closeup himself. (While undoubtedly twisted and potentially even misogynistic, that sort of director-actor dynamic isn't unprecedented; Italian horror director Dario Argento is similarly known for playing the murderer in his early giallo films.)
Now, Thurman has taken to Instagram to clarify that while she maintains that the crash was "negligent to the point of criminality," she does not hold a grudge against Tarantino. He "was deeply regretful and remains remorseful about this sorry event," she writes, and—albeit 15 years later—gave her the footage to release to the New York Times. He "did so with full knowledge it could cause him personal harm, and I am proud of him for doing the right thing," she says, before adding:
THE COVER UP after the fact is UNFORGIVABLE. For this I hold Lawrence Bender, E. Bennett Walsh, and the notorious Harvey Weinstein solely responsible. They lied, destroyed evidence, and continue to lie about the permanent harm they caused and then chose to suppress. The cover up did have malicious intent, and shame on these three for all eternity.
You can see Thurman's post, with some unsettling footage of the actual crash, below.
G/O Media may get a commission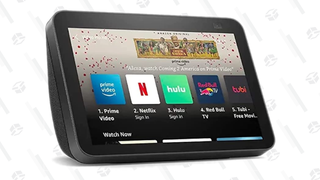 Update, 9:15 p.m. CT: Tarantino has responded to The New York Times' story and its backlash in a lengthy interview with Deadline, where he alleges that the three men Thurman names on Instagram, Lawrence Bender, E. Bennett Walsh, and Harvey Weinstein, all "lawyered up" and were excised from Maureen Dowd's piece, and "I'm kind of left representing everybody" in a coverup in which he says he was not actually involved. He further claims that he and Thurman talked about the piece before it ran, and that he was supposed to be interviewed, but he and Dowd "never hooked up."
He says that he was not aware that crew members had expressed reservations about the car, and "I'm sure when [her hesitation] was brought up to me, that I rolled my eyes and was irritated. But I'm sure I wasn't in a rage and I wasn't livid ... Anyone who knows Uma knows that going into her trailer, and screaming at her to do something is not the way to get her to do something. That's a bad tactic and I'd been shooting the movie with her for an entire year by this time. I would never react to her this way."
He claims that he drove down the stretch of road where Thurman crashed before the scene was shot to test it, and that the test drive went fine. ("It was just driving. None of us looked at it as a stunt," he says.) The car lost control, he adds, because Thurman drove down the road the opposite direction from what he had initially tested, and there was "a little mini S-curve" that made her lose control driving in the opposite direction with a heavy camera rig attached to the back of the car. "Beyond one of the biggest regrets of my career, it is one of the biggest regrets of my life. For a myriad of reasons," he says.
He also claims that he insisted Weinstein apologize to Thurman or they wouldn't move forward with Kill Bill, and gives his explanation as to why he spat on and choked actresses ("I would ask a guy the same thing. In fact, I would probably be more insistent with a guy," he says) at various points throughout his career. (Fake spit didn't look right, he claims, "So I asked Uma. I said, I think I need to do it. I'll only do it twice, at the most, three times. But I can't have you laying here, getting spit on, again and again and again, because [co-star Michael Madsen] is messing it up by missing ... So the idea is, I'm doing it, I'm taking responsibility.")
You can read the whole thing, including a real eyebrow-raiser of a line from author Mike Fleming Jr. about stories "twisted to suit convenient narratives in this #MeToo moment," over at Deadline.