After hinting, on multiple occasions, toward her own Harvey Weinstein story in the months since allegations against the prolific producer first came to light, Uma Thurman has now come forward with allegations of sexual assault against the former Weinstein Company head. Thurman opened up about her experiences with Weinstein in an op-ed column in The New York Times today, which also went into the events surrounding the eventual collapse of her creative relationship with Quentin Tarantino, after the director pressured her into performing a dangerous piece of stunt driving that ended in a car crash on the set of Kill Bill.
Thurman's Weinstein allegations match those of many of the women who the producer allegedly groomed over the years, beginning with cordiality and flattery, and ending with him attempting to force himself on her in a Paris hotel room, shortly before Kill Bill began to film. Along with Tarantino, Thurman and Weinstein had once been seen as part of a unbeatable team, collaborating on a number of highly celebrated projects. Afterwards, "She privately regarded Weinstein as an enemy," something that the producer's sheepish apologies, prompted after she told Tarantino about the incident, did nothing to allay. (Weinstein responded to inquiries from the Times by claiming that he'd misinterpreted Thurman's earlier behavior as flirtation, and providing the now-customary raft of photos of her allowing him to be near her in public, as though that proves anything.)
Thurman's relationship with Tarantino began to disintegrate, though, after a car crash on the set of their blockbuster revenge thriller, shortly before filming was set to finish. Leery about a modified blue convertible she was being asked to drive herself, Thurman requested that a qualified stunt driver do the scene instead. "Quentin came in my trailer and didn't like to hear no, like any director. He was furious because I'd cost them a lot of time. But I was scared. He said, "I promise you the car is fine. It's a straight piece of road.'" But, Thurman said, "That was a deathbox that I was in. The seat wasn't screwed down properly. It was a sand road and it was not a straight road." Footage in the Times piece shows the subsequent crash, as Thurman—ordered by Tarantino to maintain a 40 mile-per-hour speed on a twisting road—loses control on the car and crashes into a tree.
Said footage became another division point between the director and his "muse"; Thurman says she spent 15 years trying to get her hands on the video, but that Miramax—with Tarantino's tacit support—refused to release it to her unless she waived any right to sue. The two publicly battled over the issue during the film's promotional tour, with Thurman deeply angry that her long-time collaborator had prioritized his film over her health and safety.
Harvey assaulted me but that didn't kill me. What really got me about the crash was that it was a cheap shot. I had been through so many rings of fire by that point. I had really always felt a connection to the greater good in my work with Quentin and most of what I allowed to happen to me and what I participated in was kind of like a horrible mud wrestle with a very angry brother. But at least I had some say, you know?
G/O Media may get a commission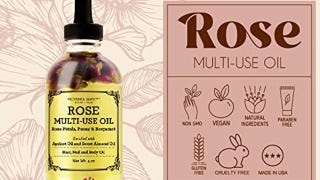 Provence Beauty Rose Multi-Use Oil
Tarantino has yet to comment on the story. The two haven't made a film together since Kill Bill Vol. 2 arrived in theaters in 2004.