Here's what's up in the world of TV for Thursday, April 23. All times are Eastern.
Top pick
Vikings (History, 10 p.m.): We're always caught off guard when cable television seasons come to end so soon after they begin. It feels like only yesterday that Ragnar's men were battling the terrible tactics of the Mercian forces in the season premiere. But after nine episodes of Viking drama, Ragnar's army makes one final daring effort to take Paris in tonight's season finale. Elsewhere Ragnar makes a request of his son Bjorn that could apparently "alter the course of Viking history." Dennis Perkins is really hoping the deathly-ill (and newly baptized!) Ragnar survives to fight another season, but if not, at least he and Bjorn will always have Paris.
Also noted
Steven Universe (Cartoon Network, 5:30 p.m.): In the aptly titled "Love Letters," Steven and Connie decide to help Jamie the mailman find love. But just who is the object of his laid-back affections? Eric Thurm thinks smart money is on Garnet, but Steven Universe has surprised us before.
G/O Media may get a commission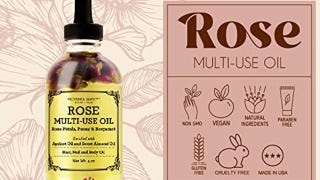 Provence Beauty Rose Multi-Use Oil
Scandal (ABC, 9 p.m.): Joshua Alston has long known Mellie is one of the best things about Scandal. Sadly, the fictional American public within the series doesn't feel the same way. Cyrus sets about rehabilitating the First Lady's image as she continues her senate campaign. Elsewhere there's more B-613 drama as the show reels from a major death last week.
American Crime (ABC, 10 p.m.): When American Crime first premiered, there was some concern it would apply the simplistic morality of something like Crash to its exploration of race, class, and crime. But while the show has had its ups and downs, it's also managed to offer a nuanced perspective at times, especially in last week's strong outing. Libby Hill hopes that streak continues tonight as Aliyah organizes a march for her accused brother Carter and Barb forms her own counterprotest.
Regular Coverage
Adventure Time (Cartoon Network, 7:30 p.m.)
The Vampire Diaries (The CW, 8 p.m.)
The Big Bang Theory (CBS, 8 p.m.)
Reign (The CW, 9 p.m.)
Elementary (CBS, 10 p.m.)
Louie (FX, 10:30 p.m.)
TV Club Classic
Futurama (10 a.m.): In this week's Futurama double-header Dr. Zoidberg tries to become a stand-up comedian in "That's Lobstertainment!" But first an attack causes everyone on Earth to become really, really dumb in "The Day The Earth Stood Stupid." All Zack Handlen has to say is: "Klaatu barada nikto."
Elsewhere in TV Club
Sure launching a superhero-themed property today seems like a no brainer, but that wasn't always the case. In a brand new One-Season Wonders, Weirdos, And Wannabes, Zack Handlen looks back at Warner Bros.' attempt to create a successful Flash TV show in 1990. He writes:
The Flash is difficult to recommend. The sluggish pacing and haphazard storytelling keep most of the episodes from being watchable to all but the most dedicated comic fans. But it remains compelling as a historical footnote, representative of a genre whose time had not yet come.
What else is on?
Bones (Fox, 8 p.m.): Your ever vigilante What's On Tonight correspondent has noticed there are a lot of network TV shows that start with the letter "B" on Thursday nights! First up: Booth battles his gambling addiction with his buddy Brennan on Bones.
The Blacklist (NBC, 9 p.m.): Then James Spader's baddie Red bravely battles a gunshot wound as the task force search for a mysterious figure from his past on The Blacklist.
Backstrom (Fox, 9 p.m.): And finally, brothers and boyfriends take center stage in this week's Backstrom. Valentine's former kidnapper/abuser is found murdered, and Amy gets a new beau.
Grey's Anatomy (ABC, 8 p.m.): There's no "B" connection to this week's Grey's Anatomy, but apparently the show is heavily hinting that Dr. McDreamy himself (Patrick Dempsey's Derek Shepherd) may DIE in a fiery car crash. Given the mortality rate is ridiculously high at Sloan Grey Memorial Hospital (which is literally named after two fallen doctors), we actually wouldn't be too surprised if he does kick the bucket. Then again, a Grey's doctor once survived a car crash thanks to the power of song, so maybe this is just leading up to another musical episode.
National Treasure: Book Of Secrets (Spike, 6 p.m.): It's a truth universally acknowledge that if a National Treasure movie is shown on TV, it's going to be this subpar sequel and not the far superior original. Still, a generic National Treasure is better than no National Treasure at all.
Ghostbusters/Ghostbusters II (AMC, 8/10:30 p.m.): Before Ghostbusters explodes into a multi-film, gender-divided universe and dogs and cats start living together, revisit the original two films that started it all. Just don't cross the streams.
Stanley Cup Playoffs
Mo hockey, mo problems. At least we think that's the slogan that accompanies the Stanley Cup playoffs, which move into their fifth round games tonight. Here's a viewing guide to the night's match-ups:
Tampa Bay Lighting vs. Detroit Red Wings (NBC Sports, 7 p.m.)
New York Islanders at Washington Capitals (CNBC Sports, 7 p.m.)
Chicago Blackhawks at Nashville Predators (NBC Sports, 9:30 p.m.)
Calgary Flames at Vancouver Canucks (CNBC, 10 p.m.)
In case you missed it
Broadchurch: Between covering two seasons of Broadchurch and a season of its American clone Gracepoint, Gwen Ihnat has become the ultimate expert in this particular television universe. After weighing in on last night's second season finale, she plans to take a well-deserved vacation from shows starring David Tennant as moody detectives.