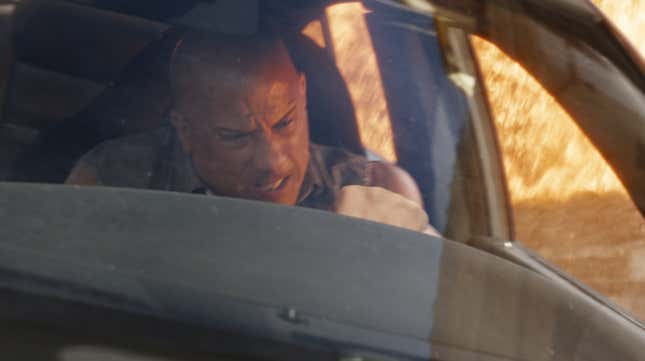 [The following contains spoilers for Fast X.]
The Fast And Furious franchise has been Vin Diesel's baby for a while now, with him being exceedingly protective of the series at least since the death of Paul Walker, but that fact really crystalized last April when longtime series director Justin Lin—generally credited with making these movies "good"—abruptly stepped down in the middle of production. He was soon replaced by Louis Leterrier, with some Fast fans theorizing that the shake-up was due to Diesel's increasing insistence on throwing his weight around and making demands about what should happen in these last two (or three, as the rumors suggest) entries in the saga.
Judy Garland's previously missing Wizard of Oz dress to be auctioned off
But if that's the case, then the Big Spoiler Thing that happens during the credits of Fast X is very surprising (last chance to avoid spoilers). For those who missed the hubbub when some Twitter accounts decided to spoil the Big Thing to boost their numbers, Dwayne Johnson's Luke Hobbs shows up at the end of the movie to tease an appearance in Fast 11 (or Fast 11 Your Seatbelts, as we've been calling it), which is a big surprise because we were all under the impression that Diesel and Johnson hated each other and that they clashed during the production of previous Fast movies over their incompatible macho-dude personalities. Despite getting his own spin-off in Hobbs & Shaw (or maybe because of it), Johnson even skipped F9 entirely.
So how did this happen? Are they all friends now? Well, based on what everyone had to say about it at the Charlize Theron Africa Outreach Project block party on Saturday (via The Hollywood Reporter), the answer to the second question sounds like "no, not really." Director Leterrier takes credit for brokering the peace talks between Diesel and Johnson, saying he wanted The Rock to cameo in the movie but would only make it happen if Johnson saw Fast X and liked it enough to be a part of it.
We don't know the specific timeline, but Black Adam came out at some point (not that that's relevant…) and then Johnson told Leterrier that he "loved" Fast X and then they "started talking." Diesel, being as gracious as we've ever seen from a man that beefy and that bald, added that "the conversations have been going on for a while," adding that they were just concerned about "what makes the best movie," "what feels right for a franchise," and how to "make people happy in this world." Diesel says that Johnson's Hobbs and Gal Gadot's Gisele (who also returns for this movie, despite dying in a previous entry) "clearly make people happy," so pair that with "this running theme of unity that prevails in the Fast & Furious saga, and it's a match made in heaven."
Very magnanimous. You'd never know that this is the same Vin Diesel who once got called a candy-ass by Johnson. Maybe he felt compelled to take pity on The Rock for some reason? (Not that this has anything to do with Black Adam, who said anything about Black Adam?) Or maybe he's really just putting his money where his mouth is with all of this "family" stuff. Either way, we're reluctant to officially call this "peace." We'll wait until Fast 11 comes out and Diesel and Johnson pose on the red carpet together with one of them putting their arm around the other one and pointing at him with his other hand (the classic "two dudes on the red carpet" pose).