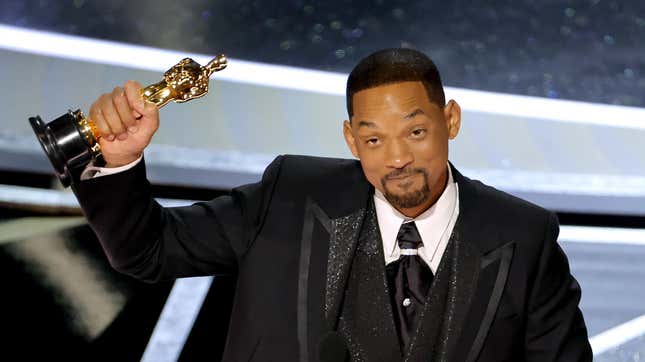 Update [4/1]: Oscars producer Will Packer's Good Morning America interview aired on Friday morning, and he was able to detail his own account of the Will Smith and Chris Rock situation. Packer says he initially thought the altercation was "a bit," and he confirms that Rock added the joke about Jada Pinkett Smith himself, instead of reading it off the teleprompter.
Kanye West's school only feeds kids sushi, lawsuit says
"I said, 'Watch this, he's going to kill,' because I knew he had an amazing lineup of jokes that we had. We had him in the prompter and ultimately he did not get to one joke. He didn't tell one of the planned jokes," he says, per Variety.
Packer recalls that, after Chris Rock was slapped, he approached the comedian offstage and asked if Smith really hit him. "He looked at me and he goes, 'Yeah, I just took a punch from Muhammad Ali.'" He adds, "[Rock] was immediately in joke mode, but you could tell that he was very much still in shock."

"I knew it was clearly a confrontational moment because of what was happening from Will in the audience, but I still wasn't sure that he actually struck him," Packer says.
Packer says he did not directly speak to the Best Actor Oscar winner, but was told that the Academy was going to "physically remove" Smith—but Packer made a point to tell them that was not what Rock wanted.
"I immediately went to the Academy leadership that was on site and I said, 'Chris Rock doesn't want that.' I said, 'Rock has made it clear that he does not want to make a bad situation worse.' That was Chris' energy," says Packer. "His tone was not retaliatory, it was not angry, so I was advocating what Rock wanted in that time which was not to physically remove Will Smith at that time because as it has now been explained to me, that was the only option at that point."
The Oscars producer confirms that Smith directly reached out to him the morning after the ceremony to apologize.

During the interview, Packer also opens up about the standing ovation Smith received after his Best Actor acceptance speech. "It wasn't like this was somebody they didn't know," he explains. "It doesn't make anything that he did right, and doesn't excuse that behavior at all, but I think that the people in that room who stood up stood up for somebody who they knew, who was a peer, who was a friend, who was a brother, who has a three decades-plus long career of being the opposite of what we saw in that moment. I think these people saw the person that they know and were hoping that somehow, some way this was an aberration…I don't think that these were people that were applauding anything at all about that moment."

However Packer also admits that he wishes Smith would have used his time on stage to apologize to Rock. "I think what many of us were hoping was that he would go on that stage and make it better," Packer says. "It couldn't be made right in that moment, because of what had happened, but I think we were hoping that he would make it better, that he would stand on that stage and say what just happened minutes ago was absolutely and completely wrong [and say], 'Chris Rock, I'm so sorry, please forgive me.' That's what I was hoping for. I felt like he was going to win and I was hoping that if he stayed he said that."

---
Our collective, objective sense of reality—hanging on by a thread of late, in any case—took another little nick today, as we now appear to have formally entered the "He Said, The Academy Of Motion Pictures Arts And Sciences Said" phase of the Will Smith/Chris Rock altercation at Sunday night's Oscars. (An event, we feel quixotically moved to remind you, that was witnessed by a fairly hefty chunk of the planetary population, and yet is still somehow spiraling into obscurity.)

Yesterday, the Academy issued its first major statement about Smith's slapping of Rock (after Rock made a joke about Smith's wife, Jada Pinkett Smith), in which the body a) stated that it was initiating disciplinary proceedings against Smith, and that b) he was asked to leave the ceremony on Sunday night, but refused, instead staying in his seat until it was time to accept his Best Actor win for King Richard.
Now, though, "unnamed witnesses"—quoted by Variety—are disputing that claim, stating that Oscars producer Will Packer approached Smith in the aftermath of the slap and that "Packer said that he and the production 'officially' wanted Smith to stay for the remainder of the show," according to one of the witnesses. Okay! But then another source, "close to Packer," said that that's the exact opposite of what happened, and that the producer never asked him to remain. It's an amazing, ambiguous back-and-forth to witness, considering this all happened in a venue that was more packed with cameras than just about any other place on Earth on Sunday night.
The subtext here, unsurprisingly, appears to be one of extended and elaborate blame-shifting. If—as many people do—you think it was wrong for Smith to slap Rock, and if—as many people do—you think it was wrong for the assembled body of Hollywood superstars to then give the man a standing ovation, an extended platform to speak, and a fairly hefty portion of the benefit of the doubt in the aftermath of the moment, then clearly Smith's continued presence in the Dolby Theater that night has to be somebody's fault. The Academy clearly thinks (or wants people to think) that it was Smith's, not theirs, while his camp disagrees. And now here we are: Second-generation controversies, growing up peacefully in Daddy Controversy's shadow.
Packer will apparently give his own version of events in an interview with Good Morning America tomorrow; a presumably sound clip-heavy excerpt from that interview is expected to hit daylight some time tonight.
---
Update [3/31]: An excerpt from Packer's GMA interview has now been released, in which the producer describes the immediate aftermath of the slap—namely, the presence of LAPD officers in his office, offering Chris Rock the opportunity to press charges and have Smith arrested. In Packer's words, Rock was "dismissive" of the police offer, to the point of not even waiting for the cops to finish.

Although they don't play the quote in the available snippet, Packer also apparently stated that "he did not speak with Smith directly the night of the Oscars," a statement that doesn't exactly untangle this whole issue of who did or did not ask who to leave when.