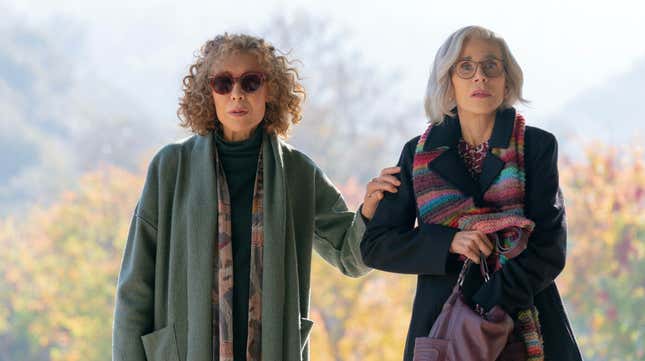 Jane Fonda and Lily Tomlin have one of Hollywood's most iconic friendships, starting from when they first shared the screen in 1980's 9 to 5. In 2015, their Netflix comedy Grace And Frankie launched, leading to an unprecedented seven-season run on the increasingly cancel-happy streamer. While the show wrapped up last year, the longtime leading ladies couldn't be stopped from co-starring again and will appear alongside Rita Moreno and Sally Field in 80 For Brady, which hits theaters this weekend. Next month, the duo will be seen on the big screen yet again in Moving On.
Harry Hamlin on "Mayfair Witches" and 80 For Brady
Fonda and Tomlin star as Claire and Evelyn, a pair of estranged pals who put aside their differences after the death of their mutual friend Joyce to plot the murder of her widower Howard (Malcolm McDowell). They have a mysterious grudge that's been simmering for 45 years, and now nothing's going to stand in their way–except for the whole actually killing a guy thing.
"My other murder canceled this week, so I've got time," Tomlin deadpans.
In their quest for revenge, the frenemies go gun shopping and consider poisoning their foe, along with stabbing him to death with a kitchen knife in broad daylight. Naturally, neither of them can actually follow through with the murder mission, and hijinks involving a flare gun, a cello, and a runaway dog ensue.
In the process, Claire also reconnects with her ex-husband Ralph (Richard Roundtree), who might not be the one who got away after all. While there are things that no one can forget, forgiveness might not be so hard after all.
Moving On was written and directed by About A Boy helmer Paul Weitz, who previously worked with Tomlin on Admission and Grandma. His credits also include Mozart In The Jungle and American Pie.
Moving On arrives in theaters on March 17.