A.V. Club head writer and hip-hop specialist Nathan Rabin recently decided to spend a year or two immersing himself in the canon of country music, a genre he knew little about, but was keen to explore. The result: "Nashville Or Bust," a series of essays about seminal country artists. After 52 entries, Rabin plans to travel south and explore some of country music's most hallowed landmarks and institutions.
At the risk of generalizing, everyone has heard "Stand By Your Man." It has penetrated pop culture on a deep, permanent level. It's been maligned as the ultimate throwback to a Neanderthal era of gender politics, and dismissed as the pathetic appeal of a codependent housewife willing to tolerate all manner of misbehavior for the sake of preserving a marriage that probably isn't worth saving in the first place. "Stand By Your Man" has been covered countless times, often with a thick coat of irony.
Paradoxically, it's one of the most revered country standards, and one of the most mocked. It's ubiquitous enough that when Hillary Clinton told 60 Minutes that in the wake of one of her husband's many, many sex scandals, she "wasn't some little woman 'standing by my man' like Tammy Wynette," everyone knew exactly what she was talking about. The "little woman" language Clinton employed is telling; it reinforces the conception of the song as a masochist's anthem for a depressed housewife reduced to staring nervously at the clock and pounding coffee while her husband fucks his secretary.
Yes, everyone has heard "Stand By Your Man," but before I sat down with the song while researching this column, I realized that I'd never actually listened to it. You have to really listen to understand its beauty.
It's a simple song, to be sure, but that isn't a strike against it. Many of the best country songs boast a primal simplicity that allows listeners to relate to them on a powerful emotional level. On "Stand By Your Man," which Wynette and producer/co-writer Billy Sherrill famously wrote in 15 minutes, the woman hailed as the First Lady Of Country didn't let flowery language or elaborate metaphors dilute the force of her message.
G/O Media may get a commission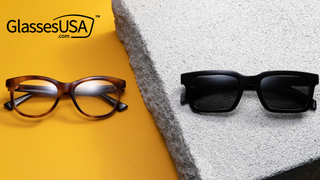 60% off frames
GlassesUSA.com Back to School Sales
"Stand by Your Man" begins with a sentence that succinctly summarizes its singer's aesthetic: "Sometimes it's hard to be a woman giving all your love to just one man." Sometimes? Christ, for Wynette, it was agonizingly difficult to be a woman roughly from the moment of her conception to 15 minutes after she died.
Wynette's life was painful and dramatic even by country standards, and by this point, we all know just how lenient those can be. Her father died of a brain tumor just after her birth, and she was reduced to picking cotton to make ends meet. She got married just out of high school, and cycled through menial jobs before finding her calling as a hairdresser. According to legend, she had her hairdressing license renewed every year for the rest of her life, just in case music didn't work out and she needed a day job to fall back on. Considering the music industry's duplicity and the number of legends who end up broke and hopeless, that's not as ridiculous a move as it might seem.
Being married to a notorious hellcat like George Jones would be punishment enough for most people, but the chronically sick Wynette underwent 26 major surgeries before dying mysteriously in 1998 at 55. She was married five times, once declared bankruptcy, and battled an addiction to painkillers.
So when she sang that sometimes it was hard to be a woman, she poured every bit of hurt she'd ever experienced into those simple but powerful words. "Stand By Your Man" derives its visceral force not from what Wynette is singing so much as how she sings it: She's a peerless interpreter who lends an effortless conviction to everything she croons.
In the opening line of "Stand By Your Man," for example, Wynette pauses dramatically between "woman" and "giving" in a way that splits the sentence into two discrete statements. There's the sometimes unbearable pain of being a woman in the Nashville boys' club of the mid-1960s, but there's also the exquisite agony of remaining loyal to a man we just know is going to drag Wynette's heart around, subject her to terrible rages, and test the limits of her patience.
In that respect, "Stand By Your Man" contains an element of pop-culture prophecy: Wynette didn't become Mrs. George Jones until a year after the song's release, but she seems to be singing about her famously tumultuous relationship with him all the same. That's certainly true of the lines that follow: "You'll have bad times, and he'll have good times doing things that you don't understand. But if you love him, you'll forgive him, even though he's hard to understand. And if you love him, oh, be proud of him, 'cause, after all, he's just a man."
In Wynette's world—and often in the wider one—men are inscrutable and incorrigible, more children than adults, ruled by compulsions and addictions. In a neat inversion of contemporary gender roles, they're weak and the women who take care of them and love them and worry about them and save them from themselves are strong. They must be in order for civilization to continue, I write only half-jokingly.
Wynette delivers the song's first verse with heartbreaking intimacy; she's the wronged woman trying to make sense of the unknowable male creature. Then comes the chorus, and the world goes from tinny black and white to Technicolor as Wynette belts out the title words with operatic force. It's a cathartic release following the concentrated heartbreak of the verses, an affirmation that marriage can withstand anything, even men being men, or more accurately, boys being boys.
Producer Billy Sherrill famously described Wynette as the girl with the teardrop in her voice, a heartrending quiver that finds its purest and most powerful expression in "Stand By Your Man." Like Jones, Wynette plucked the heartstrings with ruthless abandon. Her voice conveyed hurt, determination, sadness, and love all at the same time.
"Stand By Your Man" finds Wynette inhabiting a familiar role: the stalwart defender of the homefront. That's one of the only roles Nashville would accept from a female singer in the mid-'60s, but there was much more to Wynette than playing the longsuffering wife.
Wynette's 1967 debut, Your Good Girl's Gonna Go Bad, finds her at the height of her powers, a fully formed diva with a sense of confidence and command of her craft that belied her young age and relative professional inexperience. She was in her mid-20s, but she'd clearly lived enough for several lifetimes. Go Bad opens with her first hit, "Apartment No. 9," a Johnny Paycheck-penned tearjerker about a woman pining for a lover who has declined to join her in the titular den of romantic despair. From the beginning, Wynette combined the earthiness and approachability of country with the sophistication and refined theatricality of torch singing.
"Stand By Your Man" and "Apartment No. 9" find Wynette suffering beautifully, but on the Loretta Lynn-co-written "Don't Come Home A-Drinkin' (With Lovin' On Your Mind)" and the title track, Wynette is a sass-mouthed avenger verbally eviscerating no-good boyfriends who think they can stumble home drunk and reeking of whiskey, cigarettes, and sin at 4 in the morning and still be welcomed lovingly back into their beds. The sprightly, crackling Bakersfield roughness of the music matches the feistiness of the lyrics and Wynette's performance.
Pretty much every song on Your Good Girl's Gonna Go Bad and 1968's Stand By Your Man is about men and the infinite permutations of love, fidelity, and heartbreak. Like Kitty Wells (whose breakthrough hit, "It Wasn't God Who Made Honky Tonk Angels," provided the title for an album later Wynette recorded with Loretta Lynn and Dolly Parton), Wynette defines herself in her early albums largely through her relationship with men.
But there are crucial differences. Wynette had a genius for seduction that contrasts sharply with Wells' asexuality. Go Bad's "Don't Touch Me" trembles with vulnerability and breathy sexual longing, while on "Almost Persuaded," Wynette addresses the prospect of cheating on her partner with a barroom Casanova with a sense of grown-up sexuality.
Also as with Wells, Wynette's domestic dramas were sometimes so over-the-top that they bordered on kitsch. "D-I-V-O-R-C-E," "Joey," and "Kids Say The Darnedest Things," for example, amplify the already heated emotions of the breakup song by juxtaposing the spiritual corruption of adults who can't stay together with the myopic innocence of children who can't comprehend the wicked ways of the adult world. It's Wynette's way of asking "Oh, won't someone think of the children?" In country music, love is pain and parting is torture, but no one feels the effects as profoundly or is hurt as deeply as the kids caught in the middle.
In Sex, Drugs, And Cocoa Puffs, Chuck Klosterman writes of the pairing of Pamela Anderson and Kid Rock as a pop-culture inevitability. There was no way people so ridiculous and ridiculously compatible could not hook up; the universe wouldn't allow it. I feel the same way about Wynette's marriage to George Jones. It was seemingly predestined that country's heartbreak kid would join forces with its queen of romantic melodrama. Nobody wrung more emotion out of a lyric than Jones and Wynette, separately or together, and few artists before or since have reached listeners on such a profound emotional level.
Jones and Wynette's public marriage lent a queasy voyeuristic edge to their duets. On their signature duets, "Golden Ring" and "Two Story House," Wynette and Jones trace a blossoming relationship's dark arc from ecstatic joy and overflowing optimism to disillusionment and dissolution. Their duets oscillated between stirring affirmations of their love and commitment, and sad songs seemingly anticipating the inevitable breakup. Given Jones' wildcatting and carousing, the sad songs tend to feel a little more authentic than the sappy tributes to love eternal.
After divorcing Jones in 1975, Wynette underwent the highs and lows endemic to country stardom. She wrote a memoir (titled, naturally enough, Stand By Your Man) that was turned into a 1981 television movie starring Annette O'Toole. She faced one health crisis after another. And she joined forces with fellow battle-hardened survivors Loretta Lynn and Dolly Parton for that 1993 collaborative album, Honky Tonk Angels. She also reunited with Jones professionally on the 1995 duet album One. But I suspect that much of the A.V. Club readership and my fellow Gen-Xers are more familiar with a much less expected collaboration: KLF's "Justified & Ancient (Stand By The JAMS)."
Acid-house pranksters The KLF hooked up with Wynette in part because of her status as a kitsch icon, but also out of an obvious respect for her as one of the great singers of the 20th century, not just in country, but in pop music as a whole. It's a tribute to Wynette's indomitable force of character that she manages to maintain her dignity even when singing of Mu Mu Land and shadowy figures that drive an ice-cream van, all while surrounded by horned, hooded figures with electric guitars. Wynette wasn't ancient at that point, but she was a living legend, a musical institution. "Justified & Ancient" has tremendous fun with Wynette's persona. It's simultaneously ironic and unironic, a fan's valentine and some smartass motherfuckery. KLF's video presents Wynette as a campy throwback to a bygone era, and as the Queen of Country Music, but also as a preeminent survivor, a role she played to the hilt in her music and in her life.
Up Next on Nashville Or Bust:
Buck Owens
Loretta Lynn
Shania Twain
Johnny Paycheck
Patsy Cline