With the release of the season's buzziest horror flick, Halloween, still a week away, this weekend at the U.S. box office was once again marked by a battle between two titans whose partisans are engaged in all-out war: Venom and A Star Is Born. And sadly for the little monsters out there, the thiccer beast triumphed again. Venom is the No. 1 movie in America for the second week in a row, beating No. 2 film A Star Is Born by a mere $7 million.

Sharon Stone made a fraction of what Michael Douglas did for "Basic Instinct"
But it could be much worse, Gaga fans. A Star Is Born's staying power in its second weekend was remarkable, dropping a mere 34.7 percent presumably on the strength of critical acclaim and word of mouth praise. (Venom's 55 percent dropoff is more typical of a blockbuster release in its second week.) Both films are also benefitting from great international box office, bringing Venom up to $235.3 million and A Star Is Born to $136.2 million worldwide.
Meanwhile, First Man, Damien Chazelle and Ryan Gosling's largely apolitical Neil Armstrong biopic, opened in third place with $16.5 million, short of optimistic forecasts but in line with studio expectations. Fox News, which has been filling the time it doesn't spend reporting on the Trump administration's many misdeeds by stirring up a manufactured bad-faith controversy over the fact that the movie doesn't include a shot of Armstrong explicitly sticking his/America's flag-dick into the virgin surface of the moon, was puzzled by this outcome:
G/O Media may get a commission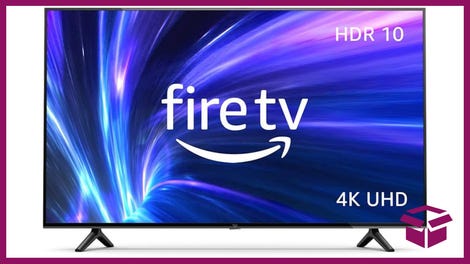 42% Off
Amazon Fire TV 50" 4K Smart TV
First Man has also been accused of being right-wing propaganda, because we are trapped in the dumbest of all timelines.
And while we're on the subject of multiple timelines and those who love them, Drew Goddard's Bad Times At The El Royale opened with a disappointing $7.2 million and "B-" CinemaScore. That put it in seventh place, three spots down from the week's third new wide release, Goosebumps 2: Haunted Halloween, which secured a No. 4, $16.2 million debut largely backed by moviegoers under the age of 25. (We're guessing most of those were about half that age.)
Yes, it was a weekend at the movies driven by the inane partisan bickering that seems to have infested every aspect of American life. Will Jamie Lee Curtis and all-out murder be able to bring us together, given that Fox News got its attempt at a right-wing Halloween controversy out of the way early? We'll find out next week.