Welcome To Sweden, much like its main characters, often suffers from a bit of an identity crisis. The best parts of the show aren't usually the jokes but rather the moments when the writing digs deeply and earnestly into the complications of being in a relationship whose culture is so different from your own. But the problem with Welcome To Sweden is that it wasn't made for American television. But because NBC picked up the U.S. distribution rights, its stateside run comes with a lot of expectations of what an NBC sitcom should be like. From its peppy transition music to the formulaic structure most episodes follow, there are familiar sitcom components at play. But there's also a sense that Welcome To Sweden wants to be, and sometimes successfully is, much more nuanced and genre-bending than a half-hour network comedy. As the second season begins, the writers are still struggling to lock down that voice.
Welcome To Sweden's greatest strength is its authenticity. First of all, it's authentically very, very Swedish. After all, it was made for Swedish television, and most of the writers are Swedish. Large parts of the episodes are in Swedish, with English subtitles when it airs in the United States, lending to its realism. But even the style of humor is distinctly Scandinavian in tone and style, which is perhaps why the show has struggled to find an American audience. But, the creators of Welcome To Sweden have found at least one way to pull in American viewers: recognizable American actors playing over-the-top, super fun versions of themselves. Creator Greg Poehler's sister Amy Poehler makes only a brief appearance in the season two premiere, but her antics were one of the most consistently funny parts of the first season.
But this show also brings authenticity to its central relationship, which seems obvious given that the series stars and is produced by Poehler and his wife Josephine Bornebusch, who have used their own experiences to inform the show's storylines and characters. In the season two premiere, Emma and Bruce are disparate, both literally, barely having any scenes together throughout the episode, and also emotionally. Even though season one ended with Bruce and Emma reconnecting in a rom-com fashion, they're back to being on pretty different pages when it comes to their relationship.
The premiere deals head-on with the cultural differences between America and Sweden regarding marriage. Bruce wants to get married, so much so that he naively attempts to ask for Birgir's blessing, but Emma's father immediately calls Viveka into the room, not really understanding the tradition. And for Viveka, it's a solid no. Lena Olin brings a lot of humor to the scene, as she usually does, and Bruce just can't quite figure Viveka out. Watching him squirm makes their dynamic tense, and that kind of heightened tension is where a lot of Welcome To Sweden's humor lives.
G/O Media may get a commission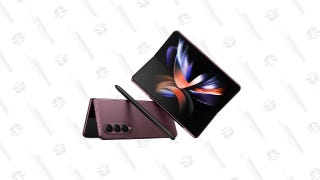 Save Up to $300
Galaxy Z Fold4
Overall, the premiere wobbles and doesn't really play to the show's strengths. It's hard to get invested in Emma's social media struggles. Bruce's discovery that marriage in Sweden is, well, a very different thing carries the kind of authenticity that makes the show distinct. But he deals with a lot of this emotional journey on his own, and Bruce on his own usually isn't all that interesting. The payoff, however, is pretty worth it. Emma's nonchalant marriage proposal—which is more of a casual marriage suggestion—is the best moment of the episode. It turns out, she does want one of those excessive American wedding rings. Bruce was right about Emma wanting to get married, but he was also wrong about how he went about the whole thing. Emma might not be the marriage-hater Viveka makes her out to be, but she also doesn't need a big-production proposal. In the end, the two still aren't completely on the same page, and that kind of nuanced conflict is one of the realest relationship moments I've seen on a sitcom airing on NBC in a while.
Stray observations
Welcome to Welcome To Sweden coverage! I'm Norwegian on my mother's side of the family, so I definitely pick up on some of the "inside" jokes particular to Scandinavian culture, but there will be things that I miss, so feel free to discuss cultural specifics that I don't cover in the comments! (I'm still surprised the show hasn't done any Sweden vs. Norway jokes yet.)
The wonderful Neve Campbell joins the cast for the second season in a recurring role, and I'm already loving her character.
I'm surprised to see that Bornebusch isn't credited for writing any of this season's episodes since she had a writing credit on every episode in the first season. As a producer, she undoubtedly still has influence on some of the storylines, but I wonder what led to her having a less active role in writing this season.
Bruce's Swedish seems like it slightly improved? Slightly.
So much happened in the first season of this show (Bruce moved to Sweden; Bruce moved home; Bruce and Emma almost broke up; Viveka and Birgir did break up; both couples reconnect), so I'm not all that surprised that the season two premiere jumps right on into marriage, but something about it did feel sudden. Usually a character's decision to ask someone to marry them would be more of a significant character moment, with some emotional build-up. I only buy the impulsiveness here because if we've learned anything about Bruce, it's that he makes his decisions very impulsively.
Finally, some forward momentum for Gustav: Viveka and Birgir have told him it's time to move out.
Viveka pointing out Emma's tallness is a nice little callback to the pilot, when she obsessed to Emma over Bruce's shortness.