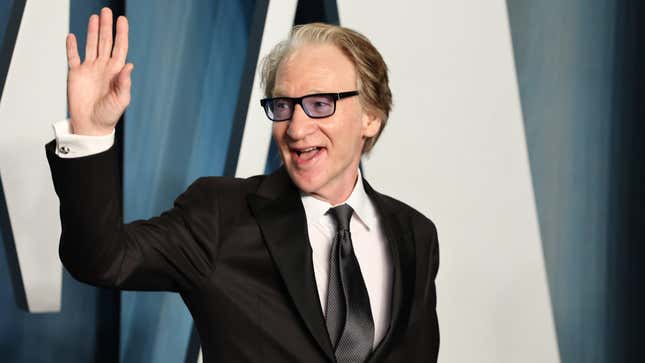 Just a few weeks after dismissing some of the Writers Guild Of America's demands as "kooky"—stating that "this is show business," and that no one is "owed a living as a writer"—HBO's Bill Maher has put the network's money where his mouth is by announcing that he'll bringing his series Real Time back to TV without any of his striking writers. That will make Maher the first late-night host to do so, as most of the other members of that particular and tiny TV fraternity (including Stephen Colbert, Jimmy Kimmel, and Jimmy Fallon) have looked for alternate ways to keep their staffs financially supported that don't involve breaking the strike. But not Maher: Declaring "I'm not prepared to lose an entire year" after five months of striking, he's decided to pull the rip cord and bring the show back in what even he grants will be an inferior form.
Whenever, wherever, Shakira will (allegedly) commit tax evasion
Writing in what is, by Bill Maher standards, extremely diplomatic language, Maher plays the "I'm just thinking of the little guy" card extensively in his post, asserting that he's unwilling to "see so many below-the-line people suffer so much," despite acknowledging that "The writers have important issues that I sympathize with, and hope they are addressed to their satisfaction." (How Maher thinks such hopes will be fulfilled when TV hosts are unilaterally deciding to ignore the strike is left unaddressed in his missive.)
Maher adds that, "I will honor the spirit of the strike by not doing a monologue, desk piece, New Rules, or editorial, the written pieces that I am so proud of on Real Time. And I'll say it upfront to the audience: The show I will be doing without my writers will not be as good as our normal show, full stop." But he also claims that the show (which will apparently run as an "off-the cuff panel discussion" while its writers continue to strike)"will not disappoint"—and hey, thank god for that, because we'd hate to live in a world where Bill Maher did something disappointing, yeah?