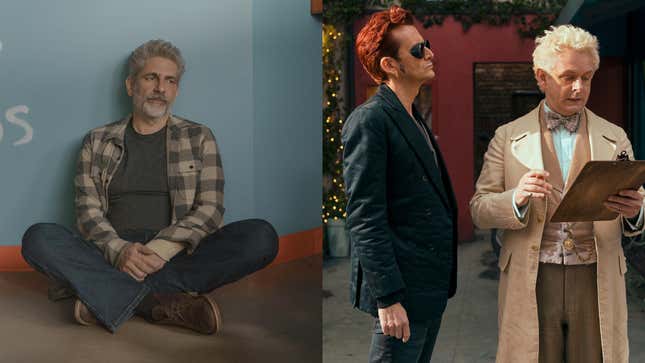 Welcome to the weekend edition of What's On. Here are the big things happening on TV from Friday, July 28, to Sunday, July 30. All times are Eastern. [Note: The weekly What's On will publish on Sundays.]

You can now buy a Weird Barbie — but isn't that missing the point?
---
1. Hulu's hidden gem This Fool is back
Hulu, Friday, 12:01 a.m.: It's too bad This Fool hasn't garnered the attention of other Hulu originals like Ramy, Shrill, and Pen15. Let's change that for season two, which returns with 10 new episodes. Co-created by comedian Chris Estrada, who plays one of the leads, the comedy follows two cousins navigating life in South Central L.A. and boasts a wonderfully wacky Michael Imperioli performance. Here's a bit from The A.V. Club's review:
This Fool tackles lofty ideas—ones that were only briefly discussed in the first season—head-on this time. At its crux, the comedy is about second chances, self-improvement, and the importance of community to survive and thrive. And the latter half of this season shines as it focuses on those themes.
---
2. At long last, let's dive back into Good Omens
Prime Video, Friday, 12:01 a.m.: It's been more than four years since Good Omens introduced us to the definitely-not-platonic Crowley (David Tennant) and Aziraphale (Michael Sheen). Despite their opposing sides—one is a demon, the other an angel—the two team up to save the planet from an apocalypse. Season two doesn't have any books to adapt from, so prepare yourself for a whole new story. The cast includes Jon Hamm, Miranda Richardson, and Anna Maxwell Martin. All six episodes drop July 28. Here's a bit from The A.V. Club's review:
Unfortunately, season two does away with the epic scope of previous episodes and shrinks the narrative down until it fits within the one-block radius surrounding Aziraphale's Soho bookshop.

---
3. It's the last time we learn How To With John Wilson
HBO, Friday, 10 p.m.: Sadly, John Wilson is ending his fantastic, singular docuseries How To With John Wilson after its third season. The show's six-episode final season returns with the filmmaker walking across New York City to create "tutorials" by talking to strangers about various fascinating topics. Here's a bit from The A.V. Club's A-grade review of the final season:
The personal and the professional, the private and the public, the mundane and the bizarre constantly clash and commingle in each episode, with everything from toilets and vacuums to pumpkins and packages leading to increasingly compassionate (though not any less deranged) portraits of niche communities that would feel surreal were they not so authentically captured by Wilson's deadpan gaze.
---
4. Barbie, who? It's now time for The Beanie Bubble.
Apple TV+, Friday, 12:01 a.m.: Okay, Barbie mania isn't ending anytime soon, and The Beanie Bubble isn't going to take it over. But this is a sure sign that summer 2023 is all about ... toy movies? This one chronicles the rise of the Beanie Babies empire with the help of an ace cast that includes Sarah Snook, Elizabeth Banks, Zach Galifianakis, Geraldine Viswanathan, and Carl Clemons-Hopkins.
---
5. Have you ever wondered How To Become A Cult Leader? Well...
Netflix, Friday, 3:01 a.m.: Peter Dinklage narrates the six-part satirical docuseries How To Become A Cult Leader. Presented as a "guidebook," it dives into how cult leaders condition their followers' brains to control the narrative and receive unconditional devotion. In the process, it pokes fun at Netflix's own true-crime phenoms like Wild Wild Country, Peacock's Holy Hell, and others.