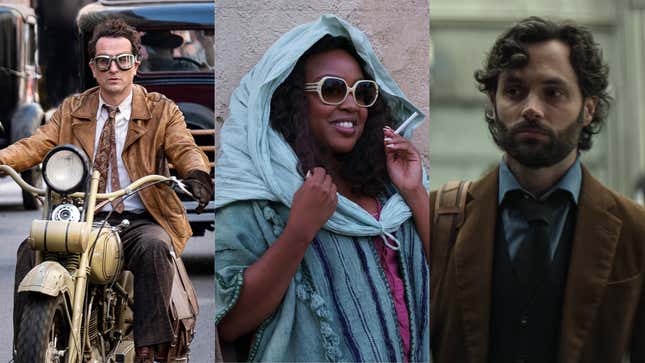 Welcome to What's On, our weekly picks of must-watch shows. Here's what you need to watch from Sunday, March 5, to Thursday, March 9. All times are Eastern. [Note: The weekend edition of What's On drops on Fridays.]

---
The biggies
Perry Mason (HBO, Monday, 9 p.m.)
Our favorite sad-boy detective returns as Perry Mason kicks off season two. The noir stars Matthew Rhys as the titular defense lawyer in 1930s Los Angeles, who's still recovering from the trauma of war and his recent divorce. The new episodes pick up months after the season one events of the Dodson trial. When the scion of a powerful oil family is brutally murdered, Perry and his associates Della (Juliet Rylance) and Paul (Chris Chalk) find themselves at the center of a case with far-reaching conspiracies. Look out for The A.V. Club's weekly recaps and our interview with Rhys about the show.
---
History Of The World, Part II (Hulu, Monday, 12:01 a.m.)
More than 40 years after his film History Of The World, Part I, Mel Brooks unveils a follow-up sketch show, which stars Nick Kroll, Wanda Sykes, and Ike Barinholtz, and skewers different watershed moments from the past. The impressive ensemble also includes Quinta Brunson, Jake Johnson, Kumail Nanjiani, Pamela Adlon, Jay Ellis, Zazie Beetz, Poppy Liu, Joe Lo Truglio, Jason Mantzoukas, Seth Rogen, Sam Richardson, Richard Kind, Josh Gad, Zahn McClarnon, and Taika Waititi. Hulu will air two new episodes daily from March 6 to March 9. Here's a bit from The A.V. Club's review:
Few of these mashups seem to have been developed past the pitch line and sit there at sub-SNL levels of satiric timidity. When not lampooning, the writing defaults to stoner absurdism. 

G/O Media may get a commission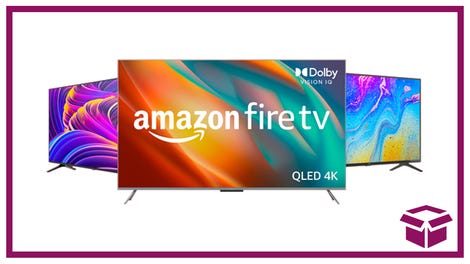 Ooh. stunning.
New Amazon Fire TVs
---
You (Netflix, Thursday, 3:01 a.m.)
Who's ready for another round of Joe Goldberg (Penn Badgley)? A month after You dropped the first five episodes of season four, Netflix will release the remaining five. Things pick up from the revelation that the killer who's tormenting Joe, a.k.a. Jonathan Moore, is—spoiler alert—mayoral candidate Rhys (Ed Speleers). Part two explores how Joe deals with the fallout of Rhys blackmailing him into killing again. Dig into The A.V. Club's review of the latest batch of eps and interview with Badgley this week.
---
Hidden gems
Rain Dogs (HBO, Monday, 10 p.m.)
Rain Dogs, a new dramedy from British writer Cash Carraway, follows devoted, single working-class mother Costello Jones (Daisy May Cooper), who wants more for her young daughter, Iris (Fleur Tashjian). Jones leans on her pseudo-soulmate, Selby (Jack Farthing), and the duo's best friend, Gloria (Ronkẹ Adékoluẹjo), and the group form a dysfunctional family.
---
Who Killed Robert Wone? (Peacock, Tuesday, 3:01 a.m.)
Who Killed Robert Wone? is a two-part true crime docuseries that explores the 2006 death of Washington D.C. attorney Robert Wone, a case in which the primary suspects were three of his friends. With little blood at the scene and no signs of struggle, the prosecutors bring a unique set of charges against the residents—but not for murder.
---
MH370: The Plane That Disappeared (Netflix, Wednesday, 3:01 a.m.)
Directed by Louise Malkinson, MH370: The Plane That Disappeared is a three-part British docuseries about the vanishing of Malaysia Airlines flight 370 in 2014. Premiering on the ninth anniversary of the tragedy, it features interviews with family members, scientists, investigators, and journalists searching for answers.
---
More good stuff
The Challenge: World Championship (MTV, Wednesday, 8 p.m.)
This big crossover event pits The Challenge champions and MVPs from Argentina, Australia, the U.K., and the U.S. as they battle for a $500,000 prize. Episodes also drop on Paramount+ at 3:01 a.m. on Wednesdays.
---
School Spirits (Paramount+, Thursday, 3:01 a.m.)
YA drama School Spirits focuses on a teenager, Maddie (Cobra Kai's Peyton List), who's stuck in the afterlife and investigating her own mysterious disappearance. Despite being, you know, not alive, she still has to adjust to high school while going on a twisty, crime-solving journey.
---
Top Chef (Bravo, Thursday, 8 p.m.)
For its landmark 20th season, Top Chef is crossing the pond to London. The 16 contestants this time are previous competitors who are chasing a $250,000 prize, as well as a feature in Food And Wine magazine, and an appearance at the annual Food And Wine Classic. Padma Lakshmi returns to host and judge, along with Tom Colicchio and Gail Simmons. The A.V. Club will recap the show each week.
---
Can't miss recaps
Saturday Night Live (NBC, 11:30 p.m.)
The Last Of Us (HBO, Sunday, 9 p.m.)

The Bachelor (ABC, Monday, 8 p.m., season 27 premiere)
The Real Housewives Of New Jersey (Bravo, Tuesday, 8 p.m.)
The Mandalorian (Disney+, Wednesday, 3:01 a.m.)
Poker Face (Peacock, Thursday, 3:01 a.m., season one finale)
Party Down (Starz, Friday, 9 p.m.)
Shrinking (Apple TV+, Friday, 12:01 a.m.)
RuPaul's Drag Race (VH1, Friday, 8 p.m.)
---
Arriving now
9-1-1 (FOX, Monday, 8 p.m., season six winter premiere)
The Voice (NBC, Monday, 8 p.m., season 23 premiere)
That's My Jam (NBC, Tuesday, 10 p.m., season two premiere)
---
Ending soon
Crash Course In Romance (Netflix, Sunday, 3:01 a.m., season one finale)
Murf The Surf (MGM+, Sunday, 10 p.m., season one finale)
The Winchesters (The CW, Tuesday, 8 p.m., season one finale)
Kung Fu (The CW, Wednesday, 8 p.m., season three finale)