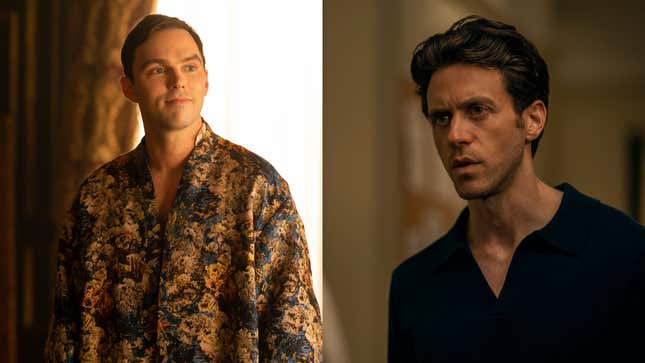 Welcome to the weekend edition of What's On. Here are the big things happening on TV from Friday, May 12, to Sunday, May 14. All times are Eastern. [Note: The weekly What's On will publish on Sundays.]

That time Tom Cruise tried to pull Seth Rogan and Judd Apatow into Scientology
---
1. Huzzah! The Great returns for season 3
Hulu, Friday, 12:01 a.m.: Period comedy The Great is back for a great third season, with all 10 episodes dropping on the same day. It picks up just after Catherine (Elle Fanning) attempts to murder her beloved husband, Peter (Nicholas Hoult). They're now striving to be a normal married couple while she rules over Russia, and he fawns over their son (while inventing delicious recipes like rosemary salt in the 1700s). Here's an excerpt from The A.V. Club's review:
It's unhinged, potent, and charismatic while being laugh-out-loud funny. Since Pen15 ended, The Great has easily become Hulu's flagship comedy because of this unique creative vision.
---
2. Gritty drama City On Fire debuts on Apple TV+
Apple TV+, Friday, 12:01 a.m.: Based on Garth Risk Hallsberg's 2015 novel, City On Fire is a teen crime drama that follows Samantha Yeung (Chase Sui Wonders), who was shot in Central Park on July 4. The investigation into her murder reveals the crucial connection between citywide fires, the downtown music scene, and a wealthy uptown real estate family keeping a big secret. Wyatt Oleff, Ashley Zukerman, Jemima Kirke, and Nico Tortorella co-star.
---
3. Michael J. Fox opens up in Still
Apple TV+, Friday, 12:01 a.m.: Still is a documentary about Michael J. Fox in which he recounts his journey from being a kid on a Canadian army base to becoming a Hollywood star in the '80s. The film features archival and scripted elements as Fox takes us down the vulnerable path of his Parkinson's diagnosis and his personal and professional triumphs over the years.
---
4. Netflix adds Black Knight to its slate of K-dramas
Netflix, Friday, 3:01 a.m.: The dystopian South Korean drama Black Knight is set in 2071, when extreme air pollution has turned the country into a wasteland and wiped out most of the population. Survivors rely on the Knights, specialized delivery drivers who provide them with necessary respirators. Black Knight follows a legendary Knight who decides to train a young boy to accomplish an impossible goal in their dark new world.
---
5. Tina Fey co-produces animated comedy Mulligan
Netflix, Friday, 3:01 a.m.: Co-created by Unbreakable Kimmy Schmidt's Robert Carlock and Sam Means, with Tina Fey acting as a producer, Mulligan is an animated comedy that centers on Earth after it's destroyed by an alien attack. Dystopia is really the trend of the moment, huh? A rag-tag band of survivors is given the opportunity to learn from humanity's past mistakes and start over with a new society. The voice cast includes Fey, Daniel Radcliffe, Ronny Chieng, Chrissy Teigen, Sam Richardson, Ayo Edebiri, Nat Faxon, and Dana Carvey. Here's a bit from The A.V. Club's review:
And then there's the curious case of the show's humor (or lack thereof): Despite having comedy veterans at the helm, the jokes, for some reason, don't land as well as they should.

---
6. Enjoy Ben Affleck's Air from the comfort of your couch
Prime Video, Friday, 12:01 a.m.: In case you missed Air, which was released in theaters just last month, Prime Video has got your back. Directed by and starring Ben Affleck, the film is based on true events surrounding Nike's basketball shoe line Air Jordan as the company seeks to strike a business deal with a rookie M.J. Check out The A.V. Club's review.