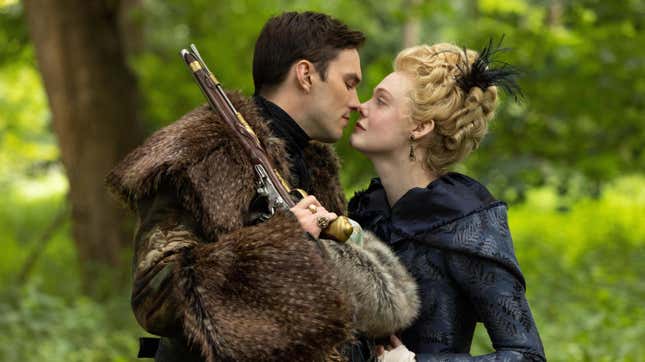 There's nothing on TV right now quite as boisterous as The Great. Of course, there are dozens of period pieces, but none revel in such a brazen approach to the genre as Hulu's comedy. The show's strength has always lied in molding the story of Russia's Empress, Catherine the Great, into a rowdy and heartbreaking journey that's almost entirely inaccurate. Series creator and writer Tony McNamara embraces that it's the opposite of a true story, allowing The Great to tell wild narratives about Catherine (Elle Fanning) navigating the court's histrionics as she struggles to remain in power.
Why Christian Bale would love to be friends with Burt Berendsen
The show's biting tone makes it a feverish mix of political satire, an endearing love story, and a significant coming-of-age adventure. It's challenging to juggle all of these aspects gracefully, but the cast and crew commendably toe the line without losing their footing. Season three, which arrives May 12 on Hulu, is no different. It gradually heightens the stakes for Catherine with her marriage to Peter (Nicholas Hoult), diplomatic threats, and friendships. The show becomes a slightly bleaker version of itself without losing any of the fun.
Its success wouldn't have happened if Fanning weren't leading the charge. She's always been charismatic as the Empress, which led to a well-deserved Emmy nomination in 2022. She doesn't hold back in season three; it's her most profound performance yet. Fanning goes to incredible heights as Catherine deals with tragedies, an uprising, motherhood, her team slowly falling apart, and constant lust. She embodies her character's manic energy, ungodly confidence, and idling grief flawlessly (episode six, in particular, is a standout). It feels like she was born to play this role—a horny and cunning queen ready to save an empire that doesn't want to be saved.
No one is having more fun on-screen than Fanning and Hoult. They've evolved their characters' toxicities into a relationship worth rooting for. He's something of a revelation as Peter, an insufferable fool who morphs into a hilarious husband. Every dialogue delivery is scathing, whether expressing a casual desire to torture or a passionate speech about oral sex after their son's first word is pussy. Catherine and Peter begin season three after she tries to kill him but accidentally stabs his lookalike, Pugachev (also played by Hoult). They're now in the 17th-century version of couples therapy: playing Badminton, airing out their feelings, and peacefully raising their child. Anything to try and forget that she almost murdered him for hooking up with her mother (who fell to her death from a window mid-fucking, by the way).
The Great takes their mammoth problems and turns them into comedy gold (which is possible because the writing is terrific, something worth remembering in the current environment). Against all odds, they find genuine love in hopeless circumstances. "We have rewritten each other in the best, most infuriating way," she tells him at a crucial halfway point. They are the glue holding The Great together. But they're not the only ones with delightful chemistry. Everyone on the show shares palpable sparks, with characters indulging in raunchy, verbose dialogue and excessive foreplay whenever possible.
In fact, The Great's unabashed dedication to being sexy is what makes it, well, so great. The script takes advantage of no one having any boundaries in the mid-1700s through everyone, but primarily through Peter's aunt, Elizabeth (Belinda Bromilow). She boasts about sleeping with her nephew's lookalike and taking Peter's best friend, Grigor (Gwilym Lee), to his first orgy. She advises two bickering characters by saying, "I always thought fucking the same man should bring women together." Elizabeth is the lowkey MVP. The Great isn't shy about depicting electric sex scenes, either. (The intimacy coordinator deserves an award.)
While the show is still primarily a triumphant and intense joyride, the 10 hourlong episodes do run the risk of being repetitive. Some storylines spin in exasperating circles, including whether Catherine's allies are ultimately trustworthy because it's an angle the show has tackled since it began. Her best friend Marial (Phoebe Fox), Archbishop "Archie" (Adam Godley), army chief Velementov (Douglas Hodge), and Elizabeth get distinctive arcs. Still, some are more interesting than others, like Marial dealing with the tantrums of her 12-year-old husband, as one does.
Unfortunately, Georgina's (Charity Wakefield) twisted narrative remains perplexing, and Orlo (Sacha Dhawan) is underutilized even more than he was in season two in a disappointing turn. At least the supporting cast is talented, with Lee finally getting material that lets him show off his acting chops in the latter half of the season. The Great is also visually compelling because of Sharon Long's costumes, the beautiful set design, and the camerawork. Jaffar Mahmood's direction choices prop up the show (again, episode six is a standout).
The Great wraps its third season with a certain degree of finality. It could potentially go on because Catherine's reign continues for years, but even if it doesn't, the show goes out in a blaze of glory here. Fanning's daring performance in the season finale is a stellar goodbye encapsulating why McNamara's series works. It's unhinged, potent, and charismatic while being laugh-out-loud funny. Since Pen15 ended, The Great has easily become Hulu's flagship comedy because of this unique creative vision.
---
All episodes of The Great season three drop May 12 on Hulu.