CNN generally only rises to the level of compelling, have-to-watch television when something awful happens: a terrible accident, maybe, or (yet another) horrifying school shooting. Even then, it's mostly the "let's look at the car crash" kind of compelling, 24-hour news coverage that isn't very informative or inspiring. Which is why what happened on the network last night was kind of amazing, as a bunch of teenagers—survivors of last week's Parkland school shooting in Florida—stood up in the face of their elected official (and the lobbying group that supports him) and told him that he, personally, wasn't doing enough to keep them safe.
The elected official in question: Senator Marco Rubio, who's come under heavy criticism in the last week for his continued support of the National Rifle Association in the wake of the Parkland shooting. Rubio appeared at a CNN town hall event in Sunrise, Florida tonight, moderated by the CNN's Jake Tapper, and attended by several teenagers who survived the attack. One of the teens was student Cameron Kasky, who drew continued applause from the vocal crowd for asking, and then continuing to press, Rubio on a single question: "Can you tell me right now that you will not accept a single donation from the NRA?"
Rubio couldn't, and there's something pathetic in the way he continues to offer deflections, explanations, and compromises in an effort to talk past Kasky's straightforward question, and get to some sort of safe middle ground on an issue for which said safety doesn't seem to exist. It was, in fact, a pretty rough night for Rubio overall; he was angrily questioned by the father of a student who was shot in the attack, and accidentally incited the crowd into loud, sustained clapping by suggesting that gun-control laws might lead to the banning of "every semi-automatic rifle that's sold in America," which the audience seemed to treat as an optimistic goal, and not a terrifying boogeyman to recoil from in fear.
G/O Media may get a commission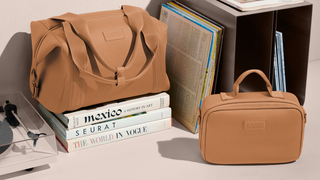 15% off
Dagne Dover Travel Kits
Meanwhile, in a fit of depressing predictability, Fox News host Todd Starnes waded into the online conversation, too, asking just what's got these dang teens feeling so darn disrespectful in the face of something tiny like, say, seeing their friends murdered, and then being told by their government that there's nothing to be done.
He's not having a great night online tonight, either.