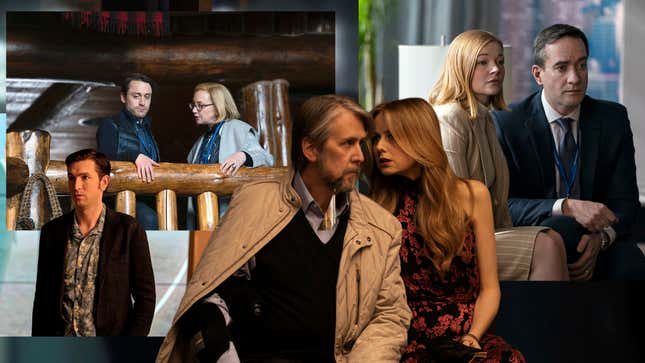 For a prestige HBO drama, Succession is surprisingly short on sex. Sure, there are a lot of sexy characters, plenty of innuendoes, and endless carnal references tossed out as insults. But the show is shy when it comes to depicting the act itself. The Roys (and everyone around them) are far too occupied by corporate chess games, backstabbing, and scheming. Do they even have sex and actually enjoy it? It's doubtful for most of them. The only position that matters is where someone falls on the Waystar Royco success ladder—the higher (and faster) they go, the wealthier they get. Their lust is for power, not sexual satisfaction.

The A.V. Club's weekly film round up
Succession derives pleasure from characters using words as their primary form of foreplay. What's a bigger turn-on here than trash talk? Look no further than Roman (Kieran Culkin) masturbating to Gerri's (J. Smith Cameron) "slime puppy" insult over the phone. And who can forget Shiv's (Sarah Snook) shockingly honest "I don't love you" to Tom (Matthew Macfayden)—just a casually intimate declaration before they proceed to ironically "make love." The only time Kendall (Jeremy Strong) sleeps on-screen with his now ex-wife Rava (Natalie Gold) is in season one, right after she confesses he makes her unhappy. The show has rarely alluded to the protagonists' sex lives, but even they don't seem to get pleasure out of it. It's because they don't seem very good at it.
In 2021, The A.V. Club's Laura Adamczyk astutely pointed out Succession's creepy oedipal complex. Siblings Connor (Alan Ruck), Kendall, Shiv, and Roman often hurl jibes at each other by insinuating they're, ugh, horny for Logan. (Rome on Kendall in the season two premiere: "He's like a sex robot for dad to fuck.") They are horny, but only for Logan's seal of approval, as much as they despise this need. Succession has mastered this twisted game. Over three seasons, the show has also precisely fleshed out each of the Roys in ways that make it easy to understand their eroticism without seeing them visually engage in it—because they probably don't anyway. And that's where the fun lies. 
The family's all-powerful patriarch might be performing at 80, but it's not because he's necessarily prolific at sex. Logan's relationships are all about holding control, even with love interests like Marcia (Hiam Abbass), Rhea (Holly Hunter), and now Kerry (Zoe Winter). Through him, Succession depicts flawed sexual power dynamics, reminding us repeatedly that Logan sucks.

Of course, his children are despicable in their own ways. In season one, Shiv hooks up with her ex because her husband-to-be doesn't arouse her. All she needed from Nate (Ashley Zukerman) was for him to admit he wanted her, and that she's got the deciding power. We barely see them go all the way, though; they mainly lie together in bed as Shiv finishes ... work. Connor's fiancé, Willa (Justin Lupe), is revealed early on to be an escort he's latched his romantic dreams onto. While they're the most likely in this group to have frequent sex, that doesn't mean he's good at it. The pair simply rely on each other for survival in society at this point. Willa doesn't see him as a soulmate, and her body language makes it clear she feels no connection with him in the sex department.
True love and sex don't exist as much in Succession compared to other TV dramas about toxic affluent people. Showtime's Billions let Paul Giammati's Chuck Rhoades give a heartfelt public speech on his strong BDSM preferences while running for State Attorney General. (The show also had some fiery chemistry between Damian Lewis and Maggie Siff). The teen drama Gossip Girl didn't hesitate to dive into the scandalous lives of Manhattan's elite. And HBO's The White Lotus spent its second season unpacking its rich characters' sexual mind games during an Italian vacation.
Succession is at its titillating best in scenes with Roman, the youngest child, who needs an ego boost and finds it through his kinks. "I'll lay you badly, but I'll lay you gladly," he tells Gerri in season three's premiere. (At least he's self-aware.) Fans have theorized Roman is either asexual or bisexual. (We did sense some potential with Lukas Mattson (Alexander Skasgard) in the season four trailer.) Roman uses humor to deflect from his past, like his season-two joke, "Look at you, fitting right in like a camp counselor in my butt when I was 12." He's also got lots of incest jokes scattered throughout. If we consider all of this, Roman's bad at sex but doesn't give a damn because he's burying trauma. He gets aroused for Gerri through his humiliation kink and sends dick pics for stature and dominance (only for Logan, of all people, to ask him: "Are you a sicko?")
Then there's everyone's favorite sad boy, Kendall. He got that early frantic scene with Rava, but it's pretty chaste for him from there. Sure, he dates Naomi Pierce (Annabelle Dexter-Jones) after bonding over addiction and abandonment issues, which leads to Logan calling him "cunt-struck," but we wouldn't know how true that is, would we? Kendall is too broken and self-centered to be good at pleasuring someone else. My theory? That season one moment with Rava is Kendall at his most charming, so he presumably had some game that's now lost. Again with that semi-oedipal complex—don't get me started on how he dismissed Jennifer [Sydney Lemmon] in Scotland in season two; all it took was a wink from Logan. He's only getting off nowadays by going to war with daddy dearest.
And then there's Cousin Greg (Nicholas Braun). He's gone from Tom's timid lapdog to a relatively self-assured man by the third-season finale. There's even talk of not needing a soul. But does that translate to his sexual abilities? While Greg has expressed attraction toward Comfry (Dasha Nekrasova) and later a contessa, his flirting skills are dreadful. Let's face it: He's not getting any, and there are no prospective orgasms in his future, despite the improved quality of his suits. Greg doesn't have it in him to mumble his way into a love interest's bed and make it worth their time. At least not yet. They're all inherently selfish to consider another person's pleasure.
No spoilers, but Succession's season four premiere tries to address this Greg situation with hilarious results. When the HBO drama returns on March 26, the teams have shifted again. Greg and Tom hold more sway with Logan (as much as it's possible to, anyway). Meanwhile, Logan's children have taken up arms against him, so it's fair to assume Shiv and Tom's marital problems will rise beyond the truthful dirty talking. Series creator Jesse Amstrong has meticulously ensured sex is the least used item in their toolbox. With all the intriguing, flawed relationship problems, who has time to indulge anyway? Based on early reviews, Succession is set to go out with a bang, but it would be a surprise if its characters do the same.