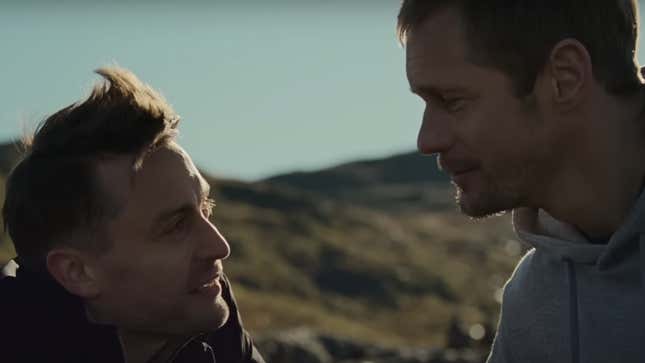 HBO has shared the final Succession trailer (ever) ahead of its season four premiere on March 26, and Roman Roy (Kieran Culkin) is at it again. "It" being seething with homoerotic tension between some tall men and betraying those closest to him.
Roman—the little rascal—is also seen in the trailer giving in to his father's request for help after receiving the smallest amount of validation and expression of need. Logan Roy (Brian Cox) really knows his kids. It seems his allegiances are moving once more, which will surely work in his favor (as it has so many times before).

This swing back to his father's side brings him face-to-face with hot, 6'4" tech mogul Lukas Matsson (Alexander Skarsgård) and conservative presidential candidate Jeryd Mencken (Justin Kirk), with whom he already shared a bathroom conversation teeming with psycho-sexual power plays. In the trailer, Roman lets Matsson know how he really feels about him: "I hate you. Do you understand that?" Calm down, boys.
As Roman's maneuvering has pulled him away from Gerri over the last season, it seems the two will be working together as the barbaric Logan fucks over Gerri. "I will sue, I will go public," she tells Roman in the trailer. Romance!
Additionally, we see Roman kiss the hand of a woman in the trailer, but surely that means nothing.
Romance is truly in the air for other characters as we move into the fourth season, with Shiv (Sarah Snook) and Tom finally clearing the air following the season three finale. In the trailer, Shiv calls Tom a "snake" for his betrayal, to which Tom says, "You have hurt me more than you could possibly imagine." While season one ended with a Shiv and Tom wedding, it looks like season four is ushering in a Shiv and Tom divorce.
Succession returns on March 26 on HBO and HBO Max.