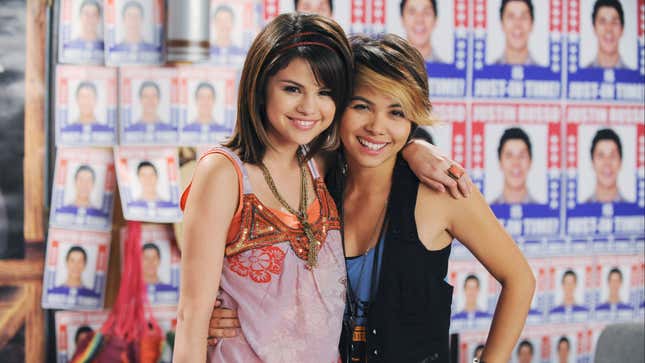 It's a good day to be a Disney gay. After years of speculation and stalwart shipping from fans, a romantic relationship between Wizards of Waverly Place's Alex (Selena Gomez) and Stevie (Hayley Kiyoko) has been deemed canon. According to Wizards of Waverly Place showrunner Peter Marietta, the more rigidly 'family values' standards of late-aughts Disney Channel prevented the series from running with the romance.
Alfonso Ribeiro on working with Tyra Banks and his favorite dancers
"I wished we could have played more with what was quite obvious to a lot of us," Marietta told former stars Jennifer Stone and David DeLuise on a recent episode of their rewatch podcast Wizards of Waverly Pod. "We weren't able to in that time, but it was pretty clear to all of us what that relationship was."
According to Marietta, it "would have been great" to get the chance to lean in on Alex and Stevie's relationship, lovingly nicknamed Stalex. (Host Jennifer Stone has publicly agreed— she captioned a TikTok snippet from the moment in the interview where Marietta discusses the arc: "We know you wanted Stalex...we wanted it too.")
"Disney Channel has had [LGBTQ] characters, and they did it. At that time it wasn't a thing. But we got as close as we could… I mean, it was pretty close," Marietta shared. (The A.V. Club has reached out to Disney Channel for comment.)
The relationship between Alex, WOWP's witty heroine, and Stevie, a troublemaking wizard with whom Alex forms a swift and exciting bond, really resonated within the fandom. Kiyoko—who is a lesbian, but had not yet publicly identified as queer during her time on the show—told Them last year that she's fully aware what that character, and her relationship with Alex, meant to fans.
"At this time, I wasn't openly queer, and so when I was on Wizards, I think anytime I was doing a show I felt very insecure or exposing myself as a flaming lesbian," she said. "But obviously [for] the fans who have watched the show, Stevie is a part of their gay awakening, and I wasn't able to mask my lesbian energy very much in the character."