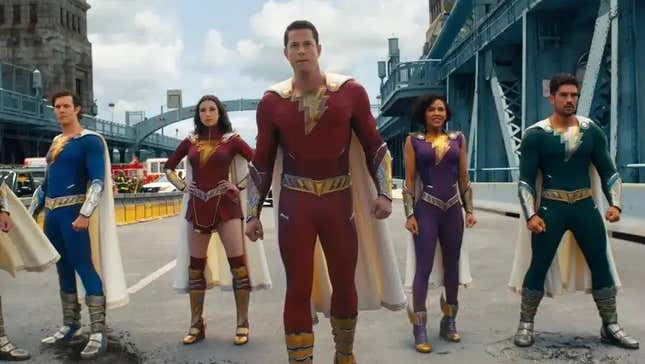 It's like we always say: Nothing good happens when you release a superhero movie with an exclamation point in the title where a colon should rightly be. Hence news reports this weekend that Shazam! Fury Of The Gods—genuinely irritating to type out, for what it's worth—is opening even worse than its initial projections, which also, to put it in highly technical industry terms, sucked.
Grace Caroline Currey has conflicting feelings on robot love
This is per Deadline, which put in a fair amount of analysis this weekend into figure out why David F. Sandberg's sequel is set to open at just $30 million, down from the $53.5 million the original Shazam! got back in 2019. (And even coming in below the $35 million projections the sequel was facing just a few weeks back.) After all, Warner Bros. and New Line did plenty right, marketing the film relentlessly, and keeping it out of the jaws of Avatar: The Way Of Water. (It is projected to be the biggest movie of the weekend, beating Scream VI). The most compelling argument Deadline ends up floating is also the simplest: Nobody wants another goddamn Shazam! movie.
Which is less an indictment of the first movie—which is perfectly fun, relying on Zachary Levi's antibiotic-resistant charms—than on the fact that this latest movie is orphaned even by the standards of the parent-light DC Film Universe. While it features a few cameos from the James Gunn wing of the cinematic universe—and a surprise appearance that could well be the last by one of the members of the Zack Snyder-era Justice League—it's unclear where the movie sits as any kind of wider plan. Which would be fine—the original Shazam! was generally better for its loose links to its movie brethren—except that there's been so much drama kicked up about the fate of this universe, and the ways Tom Cruise favorite The Flash will reshuffle it, that it's apparently been hard for audiences to work up any enthusiasm for the canon-adjacent adventures of Billy Batson and his family.