Sitcoms retool. It's what they do. Sometimes that's a good thing. Sometimes it's, well, not. Remember when Jaimie Foxworth's Judy went to bed and never returned on Family Matters? Or when Christina Applegate was curiously plucked from the ensemble of Up All Night? Also, remember Up All Night? It had potential.

The lesson here is that most series come into their own only after a little trial and error; as with life, discovering who you are takes time. And, after a debut season of Kevin James cracking open cold ones, CBS' Kevin Can Wait premiered its second season last night to reveal that Kevin has actually just been the King Of Queens this whole time. Yep, Leah Remini has replaced Erinn Hayes as Kevin's long-suffering better half, leaving Hayes to fester away beneath the floorboards because they killed her.
While this was common knowledge going into the show, viewers were curious how the show was going to explain away the slaughter. Turns out it was through a piece of mail and some pursed lips from the cast.
In a recent interview, cast member Gary Valentine addressed Hayes' character's death by saying the show "never actually makes fun of the actual death," and that it provides "some nice moments between Kevin and the kids." As you can see above, that kung-fu crack is definitely very nice.
G/O Media may get a commission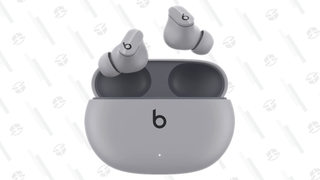 There's also a brief mention of Hayes before a character's wedding, but no explanation or sense of lingering grief. Charlie Sheen got hit by a train and exploded like a balloon full of meat on Two And A Half Men, for Christ's sake. Give us something. One could say that the show handled her death respectfully, though we'd argue the less-respectful decision is the determination that if Hayes can't be Kevin's wife, then she must die. Retooling can be brutal.