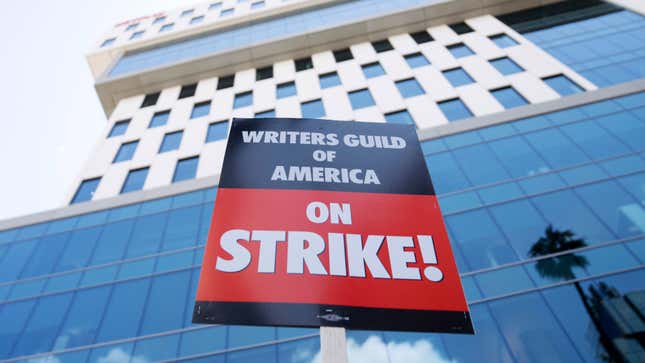 Ever since the clock struck midnight on Tuesday and the existing contract between the Writer's Guild of America (WGA) and the Alliance of Motion Picture and Television Producers (AMPTP) expired, 11,500 Guild screenwriters have been on strike, picketing for fair wages, an end to mini-rooms, and sturdy protections against AI-generated content.
While striking writers abstain from pitching, writing, re-writing, or optioning any scrips, they've instead turned their big beautiful brains towards penning clever, creative, and hilarious protest signs that prove a cardinal point inherent in the strike itself: all good entertainment starts in the writer's room. Whether threatening to spoil Succession, opining "What Would Larry David Do?" or calling for the release of Batgirl, writers on the front lines of the collective action haven't stopped putting their pens to good use; they're just not doing it for the billionaires atop of the Hollywood ecosystem anymore.
Behold, the most quotable, notable signs from the picket lines so far, compiled by The A.V. Club news team.