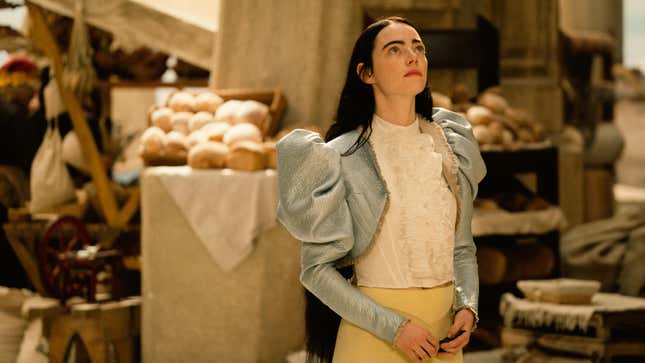 The Venice Film Festival is wrapping up today, ending an early installment of one of the weirder festival seasons in recent memory. (It's not every year, after all, that you hear the scant handful of stars in attendance all taking time out to lambast the studios amidst the plaudits.) And while we all know what the true metric of success at a fest like Venice is—the sound of many hands clapping, timed to machine precision by the eagle-eared notetakers of the Court Of Claps—the festival does bother to hand out some actual awards, too, recognizing especially meritorious entries.
This year, the fest's highest (non-ovation) honor, the Golden Lion, went to Oscar winner Yorgos Lanthimos for his latest feature, the Emma Stone-starring Poor Things. The film, Lanthimos' first since The Favourite won Best Picture at the Oscars in 2019, co-stars Mark Ruffalo, Willem Dafoe, and Ramy Youssef, and concerns itself with the story of a young woman who finds herself brought back to life in a highly patriarchal society. The film has drawn strong praise, especially for Stone's performance, with Lanthimos saying during his acceptance speech today that, "Above all, this film is the central character of Isabella Baxter, this incredible creature, and she wouldn't exist without Emma Stone, another incredible creature. This film is her, in front and behind the camera."
Meanwhile the Best Actress award went to Cailee Spaeny for her turn as Priscille Presley in Sofia Coppola's Priscilla, while Best Actor went to Peter Sarsgaard for Memory. Matteo Garrone won Best Director for Me Captain (while teen actor Seydou Sarr won Best Young Actor for his performance in the film). And Drive My Car director Ryusuke Hamaguchi pulled down another big honor, the Grand Jury Prize, for his new film Evil Does Not Exist.
Elsewhere, Polish director Agnieszka Holland scored a Special Jury Prize for her film Green Border, despite protests from members of the far-right sides of the Polish government. Alex Braverman's Andy Kaufman doc Thank You Very Much won Best Documentary, and Lee Hong-chi won the award for best first film for Love Is A Gun.
[via THR]