Valar morghulis. All men must die, and after two unexpectedly quiet weeks with nothing but offscreen death, "The Long Night" gave the Game Of Thrones death poolers a chance to update their ballots—as well as they could through all the ash and wind and chaotic darkness, at least. We might be updating these numbers next week as the smoke literally clears around Winterfell, but as best as we know at this point, here's your guide to the recently deceased.

Dolorous Edd
Who died? Eddison Tollett, nicknamed Dolorous Edd because of his morbid sense of humor. Not much is known about Edd's background, but he's been a loyal companion of Jon Snow's since they went out ranging beyond the Wall together in season two. Edd was serving as acting lord commander of the Night's Watch at the time of his death, after being appointed to the position by his old friend Jon after Jon's resurrection.

How did they die? Edd gives himself in service of his Night's Watch brethren, jumping in to save Samwell Tarly from certain death at the undead hands of a wight and getting a sword in the belly for his trouble.
G/O Media may get a commission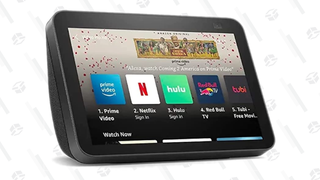 How shocking was it? Edd is a tertiary character who was the first to go in an episode widely predicted to be packed with death, so not very shocking at all.
What does it mean for the show? The Night's Watch was already rendered irrelevant when the Wall fell at the end of season seven, and now that the Night King is gone and all of his creations have shattered into tiny shards of ice, old Edd's watch would have ended regardless.
Lyanna Mormont
Who died? Lyanna Mormont, the 10-year-old lady of Bear Island. A proud and loyal bannerwoman serving House Stark, and the tiniest badass the North has ever seen.
How did they die? In a zombified spin on the tale of David and Goliath. When an undead giant breaches the walls of Winterfell, Lyanna is there to face it; she gets swatted away like an insect by the creature's massive hands, but rushes back to fight like the warrior that she is. Unfortunately, those big hands are also good for crushing little fighters like grapes, and Lyanna suffocates in the giant's grip shortly after it picks her up. She still gets the last laugh, though, pulling out her dragonglass spear and stabbing the giant in the eye, killing it just as she draws her last breath.
How shocking was it? Depends. If you're brand new to the show, the death of a child, even a child warrior, might seem taboo. But this show also had a screaming zombie boy pinned to a wall of severed limbs two episodes ago, so really, Lyanna's fan-favorite status made her death more shocking than her age.
What does it mean for the show? Between Lyanna's death and that of her cousin Jorah Mormont, House Mormont is no more.
Beric Dondarrion
Who died? Beric Dondarrion, former lord of Blackhaven and current leader of the quasi-religious guerrilla group the Brotherhood Without Banners. After being killed in battle and brought back from the dead by the red priest Thoros of Myr, Beric gave up his title, converted to the monotheistic faith of the Red God, and traveled around Westeros defending that faith with a ragged group of mercenaries and other lost souls. He died five more times in the process, and was brought back every time. His seventh death, however, will be his last.
How did they die? Protecting Arya Stark, which seemed like a minor achievement as far as prophecy goes—Arya's a great character, but she's not a queen—until a few scenes later, when Arya single-handedly ended the Great War against the dead. Beric's death really underlined the Christian undertones of the Red God's religion, posing him in a posture not unlike that of Jesus on the cross as he was swarmed by undead soldiers.
How shocking was it? The Hound called this one last season, after Thoros of Myr died in the battle beyond the Wall. We knew Beric was brought back for a reason, and that reason was to give his life in defense of the living.
What does it mean for the show? In terms of plot, the Brotherhood Without Banners' story arc is about played out. But thanks to his religious devotion and noble death, Beric may end up living on as a saint of the faith of R'hllor, the Lord of Light.
Theon Greyjoy
Who died? Theon Greyjoy, prince of the Iron Islands and a former ward of Lord Eddard Stark. Briefly known as Reek, during a very dark period of the show none of the characters really want to talk about. Theon didn't fit in very well in his warlike native culture, a disconnect enhanced by his childhood in exile, which made him feel closer to the Stark siblings than his own blood. In an attempt to prove his worth to his disapproving father, Theon captured Winterfell for the Iron Islands back in season two, an act that destabilized the region so profoundly that it took Jon Snow coming back from the dead to bring them back together again. Theon felt terrible about this, and about the many times he's run away from battle throughout the series, motivating his brave final stand.
How did they die? With the permission of Bran Stark, who tells Theon as the Night King and his entourage approach them in the Godswood outside of Winterfell, "You're a good man, thank you." Thus redeemed in the eyes of the young man he had once tried to murder, Theon rushes towards the Night King, and runs straight onto his blade.
How shocking was it? Let's be honest: Theon's had a death wish for a while. By allowing him to sacrifice himself protecting the Starks, Bran was giving Theon a gift.
What does it mean for the show? All that's left of House Greyjoy at this point are Theon's sister Yara, who headed home at the end of episode one, and their dickhead uncle Euron, who is currently shacked up with Cersei Lannister at King's Landing.
The Night King
Who died? The Night King, the 8,000 year old leader of the White Walkers and commander of their army of wights, a.k.a. ice zombies. According to Westerosi lore, the Night King was once human, a member of the ancient tribe known as the First Men, who was captured in a conflict between the First Men and the faerie-esque Children Of The Forest and stabbed with a dragonglass knife that turned his eyes blue, his soul cold, and his body into an eternal ice monster intent on recruiting every living thing into his undead army. The Night King had quite a few supernatural abilities: He was fireproof, had a sort of "find my iPhone" feature for humans, and could raise an entire battlefield's worth of wights by simply raising his arms. He couldn't swim, though. Go figure.
How did they die? In a nice little bit of narrative rhyme, stabbed by a knife in the undead gut. Arya Stark was able to deliver the killing blow thanks to a combination of stealth—it's not clear if she put on the face of a White Walker in order to get close to the Night King, but she must have disguised herself in order to approach undetected—and speed, as shown by her ingenuity when the Night King picks her up to choke her. Arya drops her knife with one hand, grabs it with the other, and just like that the battle is over.
How shocking was it? It's been established that if the Night King dies, the rest of the White Walkers and the wights under their command—including that terrifying ice dragon Viserion—die, too. So, with few other ways out besides an extremely bleak ending where literally every human character on the show is killed and the dead reign over Westeros forever, the Night King's death was the most logical narrative end point for this particular battle.
What does it mean for the show? The Great War is over, and the Final War can begin. Death's war against the living is over, and the living have won.
Jorah Mormont
Who died? Ser Jorah Mormont, a disgraced Westerosi knight and nobleman who met Daenerys Targaryen while living in exile in Essos, the continent east of Westeros. Originally hired to spy on the young dragon queen, Jorah saved Daenerys from an assassination attempt in the markets of Vaes Dothrak, and was rewarded by Daenerys' then-husband Khal Drogo for his loyalty. From then on, Jorah pledged his life to Daenerys, remaining faithful to her even after she found out about his duplicitous past and dismissed him from her service. Cured of a nasty case of greyscale by Samwell Tarly, he returned to his queen in season seven, and she welcomed him back into her inner circle.
How did they die? Multiple massive stab wounds, sustained on the field outside Winterfell when Jorah rushes in to protect Daenerys after she falls from her dragon in the midst of battle.
How shocking was it? Much like Theon Greyjoy, Jorah's been longing for the opportunity to sacrifice himself for Daenerys for quite some time now.
What does it mean for the show? For the people of his ancestral house, House Mormont, Lady Lyanna's death was more significant, as Jorah's been in exile for many years. For Daenerys, it's a personal loss, since Jorah's been there for her (and not-so-secretly madly in love with her) since the first time she appeared on screen in season one.
Melisandre
Who died? Melisandre, a priestess of the Lord Of Light who was born a slave on the continent of Essos. Originally introduced as a sinister and seductive witch obsessed with blood magic, Melisandre's role in the story developed over the course of the show. When her belief that Stannis Baratheon was the king who would save Westeros turned out to be incorrect, she made her way to the Wall, where she brought Jon Snow back from the dead. She then declared him to be The Prince That Was Promised—a savior figure not unlike the second coming of Christ in the religion of the Lord Of Light—and threw her lot in with Jon and Daenerys before disappearing again. Basically, she used to burn kids at the stake, and then popped up every once in a while to deliver a spooky prophecy.
How did they die? By taking off the magic necklace that's kept her young and beautiful for centuries and walking away from Winterfell and onto the snowy battlefield as a sacrifice to her god, crumbling away into dust as she did so.
How shocking was it? Melisandre's been on the edge of the Game Of Thrones narrative for a while, so her sudden reappearance was more surprising than her death—especially considering her deadpan line, "There's no need to execute me ... I'll be dead before the dawn," at the beginning of the battle.
What does it mean for the show? That the war against the dead has the official seal of approval of R'hllor, who probably gained a few converts among those who were lucky enough to survive the Battle Of Winterfell thanks to Melisandre's effective use of fire magic to delay the undead onslaught. The Night is dark and full of terrors, indeed.