The final honorees of the 2022 Peabody Awards were announced on Thursday, with Summer Of Soul, The Underground Railroad, and Bo Burnham's Inside joining the previously announced winners including Hacks and We Are Lady Parts.

Terry Gross' long-running NPR interview program Fresh Air was named an Institutional Winner, described by jurors as "the indispensable place for listeners to engage with many of the most beloved artists who have shaped society over the last century." Legendary journalist Dan Rather was honored with a Career Achievement Award for "literally [serving] as an anchor, providing a calm and authoritative voice at times of national strife."
Elsewhere, Jurors lauded Burnham's Netflix comedy special as "the perfect piece of Covid Era art," while The Underground Railroad was described as "an immersive sensory experience" that delivered "weighty lessons about the utter devastation of the transatlantic slave trade."
Previously, the jurors wrote that ABC's The Wonder Years reboot "points out how much there is to overcome, still, in our current time of racial reckoning." Meanwhile, Riz Ahmed presented the award for We Are Lady Parts, calling it "subversive and unexpected."

"Aside from being a story that matters, this is also a story that just bangs. It's entertaining, it's cool, it's hilarious, and it has as much swagger as you and the rest of your team do," he told creator Nida Manzoor, who accepted the honor on behalf of the production.
G/O Media may get a commission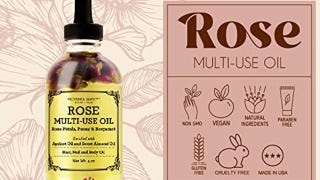 Provence Beauty Rose Multi-Use Oil
Jurors described Hacks, starring Hannah Einbeinder and Jean Smart, as a "brilliantly funny" show that tackles "the sexism that haunts multiple generations of women in comedy." Co-showrunners Lucia Aniello and Jen Statsky joined the stars to accept the award, calling she show "a creative collaboration" both on screen and behind the scenes.
The Peabody jury also praised Sort Of, starring co-creator Bilal Baig, writing, "With its blazingly original comedic sensibility, Sort Of spins a somewhat simple sitcom-sounding premise into a dry-humored and tender portrait of a queer nonbinary individual embracing the multitudes they contain within."
Jon Stewart, who presented Dopesick's award, called the miniseries "a heartbreaking, realistic and true to life portrait of all that everyone's been through." Executive producers Danny Strong and Michael Keaton (who also starred in the show) accepted the honor on behalf of the production, with Strong thanking Hulu for taking on the series when "no one else in Hollywood wanted to tell this story."

Ethan Hawke presented Reservation Dogs' award, calling "the history of authentic depictions of Native Americans" in media "indefensibly" brief. Sterlin Harjo, who co-created the series with Taika Waititi, accepted the honor, saying, "It's important to let people tell their own stories. Whenever you let people tell their stories, it shows, and the quality of the work is better. No one's asking for a handout… just an opportunity to tell our stories."
Here is the full list of winners from the 2022 Peabody Awards: 
INSTITUTIONAL WINNER
Fresh Air with Terry Gross
Originating from WHYY in Philadelphia, Fresh Air with Terry Gross has been the mainstay cultural interview program in the National Public Radio universe, as a daily national broadcast, since 1987 (originating as a local program in 1975). The hour-long show, which averages 5 million weekly listeners, is dedicated to lengthy interviews with artists—musicians, actors, directors, playwrights, authors, poets, showrunners—as well as providing contemporary film, TV, and book reviews by guest contributors. In three and half decades, the show has become the indispensable place for listeners to engage with many of the most beloved artists who have shaped society over the last century. With a sultry voice, impish laugh, and a buoyant spirit of play, Gross has crafted a style of her own that is singular. Part conversationalist, part therapist, part oral historian, Gross leans heavily into her guests with an unassuming intimacy that often evokes unexpected and, at times, uninterrogated feelings or memories. Her gentle questioning unearths the human desire, frailties, motivations, and triumphs that have shaped the artist's life and experiences. She routinely displays genuine interest in what makes artists great, not just as creators, but also as individuals whose personal history and humanity inspire the art itself.
CAREER ACHIEVEMENT AWARD
Dan Rather
Dan Rather, winner of this year's Peabody Career Achievement Award, served as one of the Big Three national evening news anchors from the 1980s to the 2000s, a time of peak network news power, becoming one of the most recognizable journalists in the world. He has used the power of the press to great effect throughout his long journalism career—from saving thousands of lives during a hurricane in the 1960s to interviewing every president since Dwight D. Eisenhower. And he has literally served as an anchor, providing a calm and authoritative voice at times of national strife, such as the assassination of President John F. Kennedy and 9/11. Since leaving CBS in 2006, he has remained active, anchoring Dan Rather Reports for HDNet until 2013, and then hosting The Big Interview on AXS TV. He continues to use modern technology to contribute to public discourse, hosting an online series (The News with Dan Rather) and maintaining a vibrant Substack newsletter as well as an active Twitter presence. He remains particularly dedicated to fighting the disinformation, chaos, and division that have defined recent years in America.
PEABODY AWARD FOR JOURNALISTIC INTEGRITY
TV Rain/Dozhd
In March 2022, TV Rain (also known as Dozhd), Russia's last independent television channel, was shut down by state authorities because its news coverage was often critical of President Vladimir Putin and the unprovoked war he launched against neighboring Ukraine. The channel's final broadcast was a blatant protest: The entire staff gathered at the news desk and then walked off together as the anchors said "no war." The channel had been banned from cable in 2014, even broadcasting from a studio apartment for a month, but it soldiered on, remaining online, and reporting the truth about the Russia-Ukraine conflict since its beginnings. Last year, Russia's justice ministry declared it a "foreign agent" for its critical coverage of the Kremlin—a designation connoting suspicion that leads to extra government scrutiny—but TV Rain persevered. That is, until the telecommunications regulator Roskomnadzor announced in March that it, too, would boot TV the channel, which, it said, had incited protests and disrupted the public. Given the dangers and difficulties of speaking out against the Russian government, as well as increasing attacks against press freedom around the world, TV Rain stands as a beacon for speaking truth to power.
ARTS
"Summer of Soul (…Or When The Revolution Could Not Be Televised)" (Hulu)
In the concert documentary film Summer of Soul, musician and debut director Ahmir "Questlove" Thompson puts us in the front row of a seminal event that should be as legendary as Woodstock but had been relegated to the dusty and neglected storage bins of history: the Harlem Cultural Festival in the summer of 1969. The film weaves together interviews with attendees and cultural commentators for context with astonishing footage of festival performances from the likes of Stevie Wonder, Nina Simone, Mahalia Jackson, B.B. King, and many more.
DOCUMENTARY
In the Same Breath (HBO Max)
Nanfu Wang's beautifully realized film is a personal essay-cum-verité chronicle of the early months of the pandemic in Wuhan, China. A towering achievement, the documentary offers viewers unprecedented access to the frontline workers in Wuhan hospitals during the months when no one knew much about a novel coronavirus, with many of Wang's camera operators opting for anonymity even in the film's credits—a powerful reminder of the risk they took in capturing what state media carefully kept out of view.
A Thousand Cuts (PBS)

FRONTLINE's A Thousand Cuts introduces viewers to Maria Ressa, the Nobel Prize-winning journalist who dared to champion press freedom in the face of President Rodrigo Duterte's authoritarian crackdown on the news media in the Philippines. Directed by Ramona Diaz, the documentary takes us inside the escalating conflict between the government and Ressa's online news site, Rappler, highlighting systems of oppression fostered by autocratic regimes and fueled by profit-driven social media networks.
High on the Hog: How African American Cuisine Transformed America (Netflix)

Building on the research of food historian Dr. Jessica B. Harris, High on the Hog: How African American Cuisine Transformed America charts the evolution of Black foodways with both clarity and awe. Taking viewers across the Atlantic from Benin to South Carolina and up the eastern coast of the United States, High on the Hog serves as a corrective to histories that have excluded Black people's contributions from this country's culinary records.
Mr. SOUL! (PBS)

A joyful tribute to the local television program SOUL! and its creator, the impresario Ellis Haizlip, the documentary film Mr. SOUL! is a loving celebration of Black creative achievement and vitality in late twentieth-century America, capturing the majesty, confidence, and revolutionary force of Black artists, intellectuals, writers, and performers. The time between 1968 and 1972 was an extraordinary period in American broadcast television and cultural history, and Haizlip's SOUL! was uncompromisingly and unapologetically Black, serving as a visual and sonic record of Black Americans at their most radical.
My Name is Pauli Murray (Amazon Prime Video)
A towering figure in mid-twentieth century law—Ruth Bader Ginsburg and Thurgood Marshall cited them as an intellectual influence—Pauli Murray finally gets their due in Julie Cohen and Betsy West's My Name is Pauli Murray. Using Murray's own words and excavating the personal history that informed the distinguished lawyer, poet, priest, and writer, Cohen and West have crafted an indelible portrait of a figure who deserves to be better known.
Philly D.A. (PBS)

The Philadelphia District Attorney at the heart of this Independent Lens docuseries is Larry Krasner, a criminal justice reform-minded lawyer who approached his role as a chance to rethink how the city of Philadelphia understood criminality. As Krasner ushers in a new era in the D.A office, facing blowback both from career staffers and local officials (including the increasingly combative police department), Krasner's story becomes emblematic of the challenges facing those intent on restructuring a broken system.
Exterminate All the Brutes (HBO Max)
In our current moment of intense dispute and contestation, when the clash of narratives and history are reduced to disputes over truth and feelings, disinformation, and gaslighting, Raoul Peck's documentary series is an uncompromising commitment to evidence, science, ethics, and morality. It asks viewers to consider the continuing impact of racial hierarchies, land seizure, and the plunder and profit of cultures throughout the world, placing important historical movements, narratives, and alliances on the global stage rather than leaving them merely as isolated national or local stories.
Mayor (PBS)
How do you run a city when you don't have a country? The documentary Mayor answers this question by following Musa Hadid, the charismatic and compassionate mayor of Ramallah, as he goes about his daily duties running the Palestinian, West Bank city of 60,000 people. Deadpan municipal humor, quiet outrage, and civic duty in the face of staggering injustice drive this engaging film from director David Osit.
ENTERTAINMENT
Dopesick (Hulu)

Dopesick brings to life the ongoing opioid epidemic in the United States, courtesy of the now-infamous Sackler family, owners of Purdue Pharma, the company responsible for the drug OxyContin. The Michael Keaton-starring limited series is truly a gut punch, forcing us to see, constantly and unwaveringly, how the choices the Sackler family and its company made directly led to the destruction of countless lives and families.
Reservation Dogs (FX)
Reservation Dogs follows the scrappy adventures of four indigenous youth—Elora, Bear, Cheese and Willie—as they drift through life in Oklahoma. Co-creators Taika Waititi and Sterlin Harjo, citizen of the Seminole Nation of Oklahoma, offer a long-overdue show that takes seriously the hopes, dreams, and electricity of its youthful native protagonists while tackling fatherless households, addiction, discrimination, and grief with aplomb. The series brims with surrealist imagination and deadpan humor that vividly captures a sense of defiant joy in the face of withering dislocation.
Hacks (HBO Max)
HBO Max's Hacks became a word-of-mouth hit thanks to the brilliantly funny intergenerational pairing of Jean Smart as standup legend Deborah Vance and Hannah Einbinder as Ava Daniels, the desperate young comedy writer sent to freshen up Deborah's act. Created by Broad City writers Lucia Aniello, Paul W. Downs, and Jen Statsky, the series follows Deborah and Ava as they try to revive their respective careers despite the entrapments of Vegas culture and the sexism that haunts multiple generations of women in comedy.
Sort Of (HBO Max)

Sabi is set on changing their life. They really should leave that part-time nanny job behind. They really should dump that homo-ish boyfriend of theirs. They really should move to Berlin with their BFF and start a newer, queerer life abroad. But then an accident forces Sabi to choose the kids they nanny over their own brighter future. With its blazingly original comedic sensibility, Sort Of spins a somewhat simple sitcom-sounding premise into a dry-humored and tender portrait of a queer nonbinary individual embracing the multitudes they contain within.
We Are Lady Parts (Peacock, Channel 4)
The rebellious spirit of the Sex Pistols meets the guiding wisdom of the Quran in We Are Lady Parts, Nida Manzoor's subversive British comedy about an all-female, all-Muslim punk band. Dressed in hijabs and ripped jeans, niqab face scarves and combat boots, the women are poised to infiltrate London's punk patriarchy with original songs like "Voldemort Under My Headscarf" and "Ain't No One Gonna Honour Kill My Sister But Me." This irreverent, charming, and utterly fresh series, obliterates MENA and South Asian stereotypes and fearlessly tackles taboos about Islam, offering a multifaceted depiction of Muslim women rarely seen on screen.
The Wonder Years (ABC)

Masterfully altering the comedic premise of the original series to expound on the uniqueness of Black American life in the late 1960s—the pilot opens the week Dr. King was killed—this reboot points out how much there is to overcome, still, in our current time of racial reckoning. What makes it work is the crisp, pitch-perfect timing of narrator Don Cheadle as the older, wiser version of main character Dean Williams, and the wonderfully natural portrayal of Dean in his youth by Elisha "EJ" Williams.
Bo Burnham: Inside (Netflix)
Bo Burnham's comedy special doubles as a multimedia tour de force, an artistic manifesto, and a lockdown diary. Every new comedic musical number, with titles like "FaceTime with My Mom (Tonight)," "Problematic," and "White Woman's Instagram," feels like a call for help—the kind that gets louder and all the more disquieting the more it drones on. Burnham wrote, directed, edited, and performed this special from the confines of a single room for what feels like months on end, making it the perfect piece of Covid Era art.
The Underground Railroad (Prime Video)
In Colson Whitehead's 2016 novel, the figuratively magical network that aided enslaved people in their pursuit of freedom took on a real mythical valence: the miracle of The Underground Railroad was powered by a literal locomotive. Director Barry Jenkins's adaptation of Whitehead's book follows the enslaved Cora, weaving in an immersive sensory experience of the land that both aided and foiled her, poignant moments of connection between characters spanning generations, and weighty lessons about the utter devastation of the transatlantic slave trade.
NEWS
"Politically Charged" (ABC15 Arizona)

ABC15 Arizona's reports on the arrests of street protesters and the very questionable tactics used against them by local police is a compelling series that warns us of the present-day erosion of our civil liberties. The investigation found that, in 2020, Phoenix police and county prosecutors routinely exaggerated and lied to grand juries to obtain felony charges against protesters. As a direct result of this series, 39 felony protest cases were dismissed, high-level officials resigned, the police chief was suspended, dozens of officers and prosecutors were reassigned, and the Department of Justice opened a sweeping pattern-of-practice investigation.
"Transnational" (VICE News Tonight)

Vice's series Transnational spotlights the stories of various trans communities around the world: from the ballroom scene in Detroit to a government-sponsored safe haven in Mexico City, with stops in the United Kingdom and Indonesia along the way. In grouping them together and cutting across them—building, as it were, a trans-national collective—Vice's team pushes back against notions of the global trans community as being any kind of monolith, honoring collectivity in individuality, the many in the few.
"'So They Know We Existed': Palestinians Film War in Gaza" (The New York Times)

In just a heart-wrenching 14 minutes, "So They Know We Existed" captures the devastation to daily civilian life during the 11-day war between Israel and Hamas in May 2021 in Gaza. Citizen cell phone footage from the attacks and interviews after the fact document a harrowing portrait of life amid warfare, from a 10-year-old girl to teenage sisters; a young man who lost his father; a musician who lost his livelihood to an explosion, among others. The piece presents a range of civilian Palestinian perspectives and bears witness to the resilience of those who continue to survive the trauma of war long after ceasefire.
"Day of Rage: How Trump Supporters Took the U.S. Capitol" (The New York Times)
In a masterful display of forensic journalism, this 40-minute documentary video from The New York Times meticulously reconstructs January 6, 2021, when, at the President Trump-inspired attack on the U.S. Capitol, a mob sought to overturn the results of the 2020 presidential election and stifle the peaceful transfer of power. The result is a culmination of a six-month investigation and reporting from thousands of cell phone videos, police radio dispatches, news broadcasts and footage, photographs, livestreams, social media postings, and police bodycam footage that pinpoints what happened that day—and shows just how close the political insurrection was to being successful.
January 6th Reporting (PBS NewsHour)

On January 6, 2021, as rioters stormed the U.S. Capitol in an attempt to stop Congress from certifying Joe Biden as the victor of the 2020 presidential election, PBS NewsHour correspondent Lisa Desjardins was the only reporter broadcasting live on television in the halls of the building, outside the lockdown. Her reporting provides a critical and singular document of the historic day's events as they happened, invaluable for viewers' understanding in the moment as well as for historians of the future.
"NBC Bay Area: 'The Moms of Magnolia Street' & 'No Man's Land: Fighting for Fatherhood in a Broken System'" (NBC Bay Area)

In two stories focused on unhoused mothers and fathers, the NBC Bay Area news teams examine the complexity and reach of the housing crisis produced by ineffective public policy and predations of economic greed. "The Moms of Magnolia Street" reports on a group of unhoused mothers, from their decision to occupy an abandoned house, to their eviction, and finally to collective action efforts that led to their partnership with the city of Oakland to purchase the home. In "No Man's Land: Fighting for Fatherhood in a Broken System," the investigative team follows the lives of single men and their children as they navigate housing bureaucracies, sensitively challenging stereotypes of single fathers, Black fathers, and formerly incarcerated fathers.
"The Appointment" (ABC News Nightline)
After nearly 50 years of legal precedent with the landmark Roe v. Wade decision, The Appointment follows 21-year-old college senior "Madi," who after discovering she is six weeks pregnant, must navigate life under the restrictive abortion ban levied last year in Texas. With concise explanations and empathetic reporting, The Appointment lays out just how common Madi's predicament is and diligently documents the lengths Madi must go in order to obtain an abortion. Her story poignantly demonstrates the entrapments that would become more widespread after the fall of Roe.
"PRONE" (KUSA)
Reporter Chris Vanderveen's investigation into the deadly use of the prolonged prone restraint technique by police officers, and the department policy that supported it, proves the power of collective local reporting with direct national impact. Researching body camera footage, autopsy reports, and court filings, Vanderveen created a searchable database that provided specific patterns so reporters could report similar cases in their areas. Over two years, the database became a catalyst for multiple news stories in other cities and for uncovering preventable deaths.
"Escaping Eritrea" (PBS)
The task of fleeing Eritrea, the small nation sometimes reductively called the North Korea of Africa, is the kind of perilous journey that often goes unchronicled for fear of retaliation. Amid threat of incarceration, torture, and execution in a country with no free press, the subjects and filmmakers of the FRONTLINE documentary Escaping Eritrea conducted an unprecedented, years-long investigation. With rigor and care, the film captures not just the myriad abuses faced by Eritreans within the country and on various treacherous migration routes, but also the historical roots of the current regime.
PODCAST/RADIO
"Throughline: 'Afghanistan: The Center of the World'" (NPR)

Throughline's magisterial three-part miniseries on Afghanistan offers the long view of a country that Americans often treat as a threat, afterthought, or tragedy, particularly after the chaotic withdrawal of the U.S. military in 2021. By centering the country in its own story and pulling back the frame to consider Afghanistan as a full "civilization," the team restores a necessary sense of scale to what is often lost in our understanding of the region across the decades and centuries of countless western media reports.
"Southlake" (NBC News Audio)
In Southlake, a northwest Dallas suburb where a 2018 video of white high school students chanting the N-word went viral, the uproar and reckoning the controversy stirred would have put the mostly white enclave on a more inclusive path were it not for the way a school board election allowed the incident and its fallout to become a lightning rod for debate about race and "critical race theory." In this podcast, NBC reporters Mike Hixenbaugh and Antonia Hylton take listeners through the sordid four-year history of a local story that has national implications for us all.
Finn and the Bell (Rumble Strip)
Finn and the Bell assembles a quiet portrait of a small Vermont community grappling with a young man's suicide, and the beauty of its method lies in how the piece universalizes the feeling of a wake. Using a drifting, non-narrated format that emphasizes the voices of those left behind, podcast host Erica Heilman gently guides the emotion through the overwhelming pang of loss toward celebration of a life, giving us a tender treatment of a community in grief.
CHILDREN'S & YOUTH
City of Ghosts (Netflix)
The winsome charm of Elizabeth Ito's City of Ghosts lies in its simple premise: to commune with haunting specters is not a scary prospect. Instead, it's an opportunity to learn about local history, a chance to reconnect with one's heritage. Centered on a "Ghost Club" led by Zelda, a young girl who doesn't blink when encountering a fluffy ghost haunting a restaurant or a drumming one keeping a cafe owner up at night, this animated mockumentary series is a love letter to Los Angeles and a textured mosaic that understands the sunny city contains as many stories as it does people and buildings.