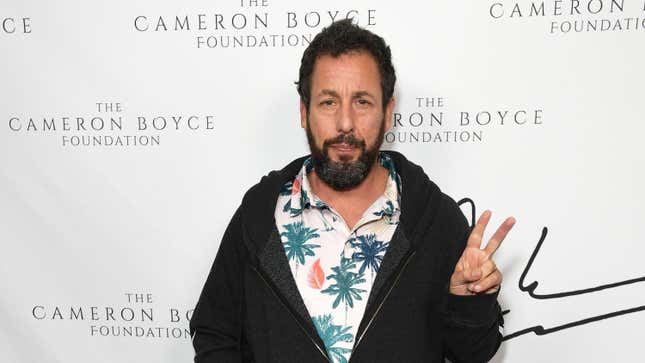 Adam Sandler misses you—or so he says. The actor, producer, and stand-up is apparently leaning hard into that latter part of his career as 2023 rolls along, having announced today that he's about to embark on a brand new stand-up tour, titled, appropriately, I Missed You. Per Deadline, Sandler will embark on the tour in Vancouver, Canada on October 12, before heading Stateside for another 24 shows that will last him through the end of the year.
That time David Spade put David Bowie in his place
Although he continues to put out movies with Netflix-pleasing regularity—most recently You Are So Not Invited To My Bat Mitzvah and Murder Mystery 2, both out in 2023—Sandler has also been a regular live draw for almost a decade at this point, after getting seriously back into concert performances back in 2016. In fact, Sandler just got done performing a set of shows billed as "Adam Sandler LIVE," which does raise the question: Can he really miss us when he's never actually left?
Sandler famously got his start as a stand-up, having been spotted by Saturday Night Live alum Dennis Miller and recommended as a writer for the show back in the 1990s. (And although the program's infamously rigorous schedule precluded much touring during that period, his first comedy album, the skit and song-based They're All Gonna Laugh At You, went double platinum with a quickness.)
Interestingly, the press materials for the kick-off show in Vancouver mention that Sandler will be accompanied by a "surprise guest"; since he already regularly tours with his famous friends when he does shows like these—notably Rob Schneider and Kevin James—it's not clear who would qualify for "surprise status" at this point. (Although we did hear that one of his old regular co-stars had some openings on her schedule recently.)