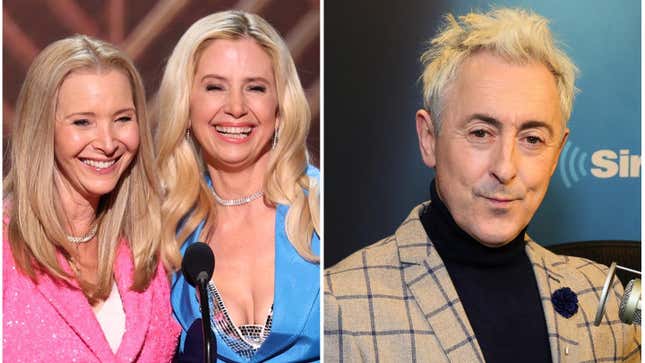 Sexism is, in fact, everywhere, but Hollywood has its own special issues with misogyny. One such example is the entertainment industry's historically terrible treatment of older women (see: Amy Schumer's "Last Fuckable Day" sketch). This can be blamed for lots of injustice, including, in Alan Cumming's opinion, the lack of a Romy And Michele's High School Reunion sequel.
"I would love to do a sequel. I have to say, I think the fact that there hasn't been is a really big example of the misogyny of Hollywood," The Traitors host tells The A.V. Club's own Drew Gillis in a new interview. "You know, I think that the things I've heard about why, sort of like, 'Oh, you know, they're getting on a bit, older women, blah blah blah.' Terrible. It's such a popular film. If it was two men in that, you know, two men successful film, we would've had six by now."
Back in June, star Mira Sorvino teased that the Romy And Michele team was "closer than we've ever been" to getting a sequel to the cult classic off the ground. During an appearance on TODAY, she teased that "something might be in the works." Not long after, her co-star Lisa Kudrow claimed writer Robin Schiff is "thinking about it and coming up with something" in an interview with Jess Cagle on his SiriusXM show.

As for Cumming, he says "nothing's come up" on his end, though there's been discussion of commemorating "whichever anniversary it would be now, 25 years or something?" Rumors of a sequel have been swirling around about that long, he adds, "But I'd be very in for it. You know, I have such fond memories of that film. And obviously it's sort of this cultural iconic thing, and everybody of a certain generation, it's really a special thing for them."