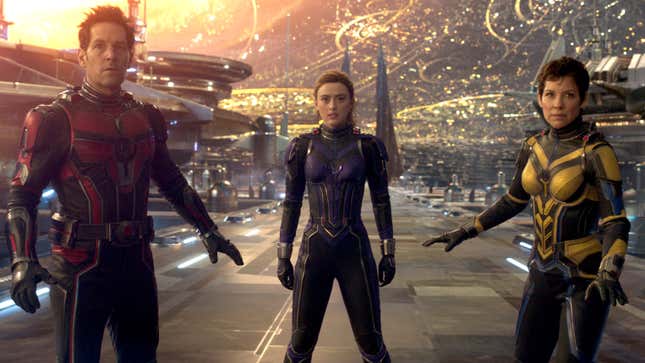 We wouldn't blame you if you've forgotten everything that's happened to Scott Lang since the original Ant-Man film premiered back in 2015. In the last eight years, Marvel has released more than two dozen films and TV series (that's just counting the official MCU titles) and breezed through two whole phases (for those keeping track, we've just entered Phase 5).
In addition to Ant-Man, Scott (Paul Rudd) has also appeared in Captain America: Civil War, Ant-Man And The Wasp, and Avengers: Endgame. With the third Ant-Man film about to open, we thought it might be useful to trace his cinematic journey from the beginning. You can always go back and watch the films for yourself, but if you don't have the time or the inclination, then this primer is the next best thing.

Ant-Man: Pym particles and Yellowjacket
When we first meet Scott Lang, he's just getting out of prison and starting his life over. His ex-wife (Judy Greer) is engaged to a police detective (Bobby Cannavale) and he barely has a relationship with his young daughter, Cassie (Abby Ryder Fortson). With few job prospects as an ex-con (he's fired from Baskin-Robbins when they find out his history, because Baskin-Robbins always finds out), he's soon lured back to the world of crime and joins his former cellmate Luis (Michael Peña) and his crew, who are planning a burglary.

The job turns out to be a setup, arranged by former Ant-Man Hank Pym (Michael Douglas), to see if Scott had what it takes to become the next Ant-Man. Impressed, Hank gives Scott a suit of his own loaded with Pym particles, which can change the distance between atoms, allowing the person wearing the suit to shrink down to the size of an ant (and also grow to the size of a building, but Scott doesn't know that yet). Speaking of ants, the suit also allows Scott to communicate with them. They even let him ride on them when he's in miniature mode. Scott names his favorite carpenter ant steed Ant-thony, the first of a series of names based on ant puns.

Hank has an estranged daughter of his own, Hope van Dyne (Evangeline Lilly), chairman of the board at Pym Technologies, who was the deciding vote in kicking him out of his own company. She blames him for her mother's disappearance years ago while her mother was on a mission as The Wasp (it's the reason why she goes by van Dyne instead of Pym). Despite that, she reluctantly joins her dad to thwart the company's new head, Hank's former protege Darren Cross (Corey Stoll), who has reverse-engineered a suit of his own. She's also not thrilled about working with Scott at first, but comes to understand that it's because her father wants to protect her (Scott, on the other hand, is expendable). Together they train Scott and plan a heist to steal the suit—codenamed Yellowjacket—so Cross can't weaponize his imperfect shrinking technology and sell it to the highest bidder (which happens to be Hydra).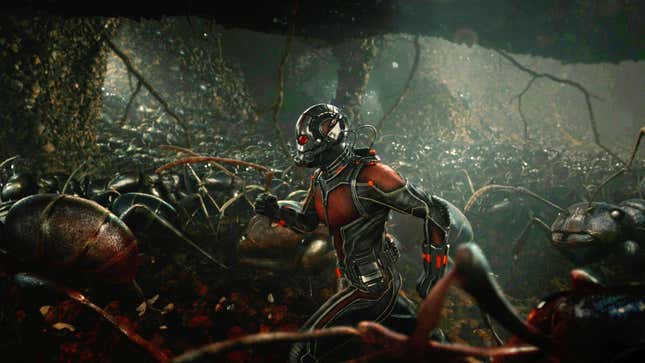 In the process of planning the heist, Hank sends Scott on a side quest to retrieve a piece of tech from an old Stark Industries warehouse. What is it? Doesn't matter! The important thing is that the warehouse turns out to be the Avengers compound. Sam Wilson, aka Falcon, stops him on the roof and they fight. Ultimately, Scott wins and is able to complete his mission. It's a throwaway scene that doesn't really impact the movie, but it will be important later on.

In the climax of the film, Yellowjacket goes after Cassie in her bedroom, but Scott manages to defeat him by shrinking down to subatomic size so he can access Yellowjacket's internal controls, causing him to implode. Scott is then forgiven by his wife, her fiancé, and his daughter, and he hooks up with Hope. There's also a hint that Hope's mother, Janet, who Hank believed to be lost in the Quantum Realm, may still be alive. Hank also reveals to Hope that he's finally given in and created a Wasp suit for her.

Captain America: Civil War: Going big, and going back to prison
When Iron Man and Captain America are bolstering their teams in preparation for their inevitable clash, Sam remembers his encounter with Ant-Man and recruits him for Cap's side. During the big German airport fight sequence, Ant-Man surprises everyone by growing to an enormous size, allowing Steve and Bucky to escape, but the rest of the team (basically Scott, Wanda, and Clint) are apprehended. Scott winds up in prison again, but this time he's sent to a high-security floating prison known as the Raft. Lang and the rest are freed by Steve and Natasha, but Scott negotiates a deal with the government to remain under house arrest for the next two years.

Ant-Man And The Wasp: A return to the Quantum Realm
Scott has done his time and even formed a relationship with the FBI agent in charge of his parole, Jimmy Woo (Randall Park). He's just days away from being released, but the government is the least of his problems. He's been seeing visions of Janet van Dyne and discovers they are quantum entangled after his previous trip to the Quantum Realm. Hope, now using the Wasp suit on the regular, is pissed at him for flying off to Germany without telling her (or asking her to join him), and Hank is pissed that he revealed the secret of Pym particles to the world. They help break him out of house arrest anyway (by replacing him with a giant ant) when they suspect that he may be the key to bringing Janet back.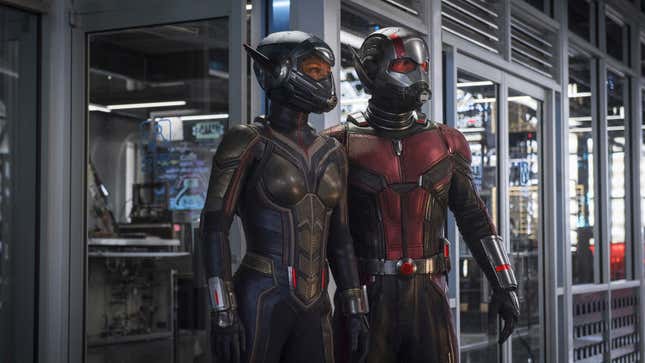 While fighting off a black market dealer who's after the Pym particles and an unstable (both molecularly and mentally) young woman named Ava Starr (alias Ghost), who needs them to save her life, Hank and Hope manage to build a tunnel into the Quantum Realm and rescue Janet. Still infused with quantum energy, she is able to lend some to temporarily stabilize Ava. In search of a more permanent solution, Hope, Hank, and Janet build a smaller version of the quantum tunnel and load it into the back of Luis' van. They send Scott back to the Quantum Realm to retrieve more particles for Ava's cure, but he loses contact with them. Scott doesn't yet realize what's happened, but we sure do. Anyone in the audience who saw Avengers: Infinity War immediately recognized the dust-and-ashes effect of Thanos' snap. Without the three of them to bring him out, Scott is trapped in the Quantum Realm indefinitely.

Avengers: Endgame: Time heist
Five years after Thanos has snapped half of Earth's population out of existence, a rat skitters across the dashboard of the van, which has been moved to a warehouse for storage. It activates the quantum tunnel and brings Scott back. For him, it's only been five hours. Instead of the rooftop where he last saw his girlfriend and her parents, though, he finds a world in shambles. Cassie, who survived the snap, is now a teenager (this time played by Emma Fuhrmann). It's all a big shock for Scott, but his experience inspires an idea.

Scott is the one who suggests they pull off a time heist, retrieving all of the infinity stones from the past and bringing everyone back. Tony is resistant at first, but ultimately the surviving Avengers band together to do just that. Along with Tony, Steve, and Bruce, he joins the team in New York. In a replay of a scene from The Avengers, they attempt to retrieve the Space Stone (which at this point is inside the Tesseract), but things go a bit haywire, it falls into Loki's hands, and he disappears with it. After Tony and Steve are able to go back further in time to get another version of the Space Stone, they reassemble all the stones so Bruce can snap his fingers and bring everyone back.

Loki: He Who Remains and the TVA
The most obvious connection between the Disney+ series Loki and Quantumania is their shared villain (we'll get to him), but it's also worth pointing out that the series hinges on that particular version of Loki making it out of Avengers tower in the altered timeline. He may not realize it, but he has Ant-Man to thank for propelling the case with the Tesseract right into his path.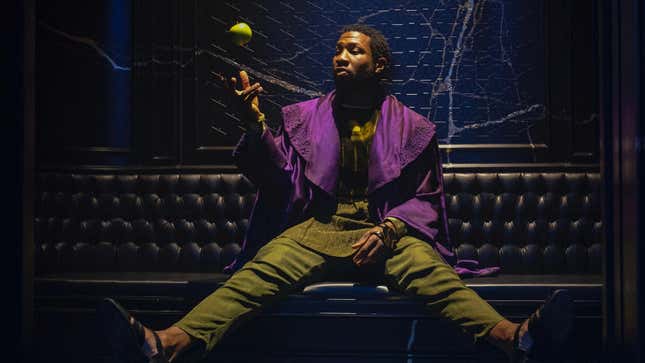 But back to that villain. At the end of Loki, we met a mysterious figure known as He Who Remains. When Sylvie and Loki confront him in the Citadel at the End of Time, he tells them about the other, far more nasty, variants of himself that fought a multiversal war. He defeated them all and created the TVA to preserve a Sacred Timeline and ensure it could never happen again. Though He Who Remains never uses the name Kang, the fact that Kang the Conqueror in Quantumania is also played by Jonathan Majors is a big clue that the two are connected. Sylvie, consumed with vengeance against the TVA for forcing her to live her life as a time refugee, doesn't heed his warnings and kills him. Loki returns to the TVA to find that it's now under the control of a variant Kang, though we don't know much about him yet.

Other relevant references from the MCU
Although Scott Lang isn't in either film, Spider-Man: No Way Home and Doctor Strange In The Multiverse Of Madness both deal with the concept of the multiverse, which will come into play a bit in Quantumania. In No Way Home, we learn that not only is the multiverse real but variants from other parallel worlds can come into ours through various paths, including mystic portals. In the Doctor Strange sequel, we find out that when that happens it's called an incursion and it's usually very, very bad. We also meet a young woman, America Chavez, with the unique ability to travel between universes. Also in this mix is the animated series What If…, which introduced a being called The Watcher, who can observe all of space and time in every universe, but is not supposed to interfere. With all these threads starting to come together, we are fully into the Multiverse Saga now. And Quantumania is poised to set up more madness to come.