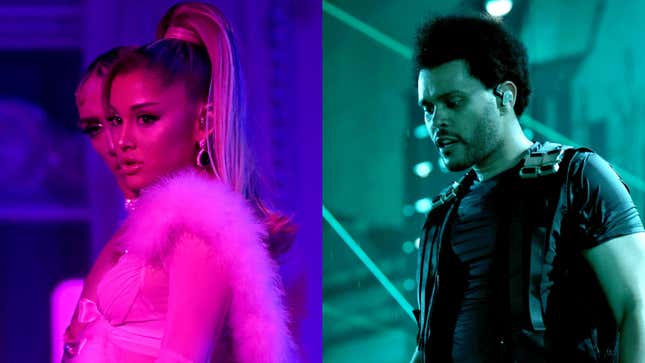 Taking a break from filming John Chu's Wicked, Ariana Grande has hopped on the official remix for The Weeknd's 2016 hit "Die For You." Originally featured on the artist also known as Abel Tesfaye's third studio album Starboy, "Die For You" has seen a steady online resurgence in recent months. The track climbed to No. 6 on the Billboard Hot 100 earlier this month (after originally reaching a peak of No. 43), and has also hit No. 1 on Billboard's Radio Songs and Pop Airplay charts.
Fittingly given its newfound internet popularity, Grande first teased the single on TikTok. "Wrote and recorded a verse for my friend after a 14-hour day on set," Grande, who will star as Glinda opposite Cynthia Erivo's Elphaba in the upcoming Wicked films, captioned the video, which shows her seated in front of an active Pro Tools session. "This certain exception had to be made…" Tesfaye and Grande previously collaborated on the 2021 remix to his track "Save Your Tears," originally featured on his 2021 album After Hours, as well as Grande's tracks "Love Me Harder" and "Off The Table."
The re-up of the pounding, synth-heavy slow jam finds Grande contributing a new verse and some artfully placed whistle tones. Grande's silky warble ups the horny quotient on the track, her vocals expertly waterfalling over steady production from Cashmere Cat, Cirkut, and more. "I'm finding ways to stay concentrated on what I gotta do/But, baby boy, it's so hard around you/And yes, I'm blaming you," she trills in the new addition. "And you know I can't fake it, now or never/And you're insinuating that you think we might be better/ Better me and you."
Clearly, Grande and Tesfaye have a good thing going— the "Die For You" remix is catchy and clean enough to feel well worth Grande's "exception." But now that Grande has done her good friend due diligence: when can the masses expect Tesfaye to hop on a "For Good" remix?