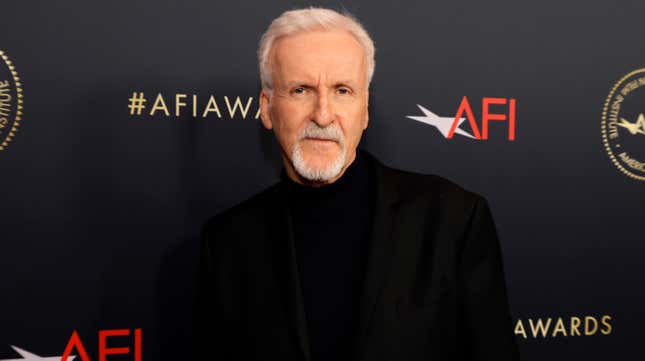 Yeah, yeah, never bet against James Cameron, we get it! All the Avatar skeptics are eating their words today, as they likely have been since the film's first rave reviews started rolling in. Cameron may not have nabbed a Best Director nomination from the Academy for Avatar: The Way Of Water, but now has three of the five top-grossing films of all time. Who's the real winner here?
Gold Standard: Oscars edition - Best Picture
Variety reports that on Thursday, the Avatar sequel officially surpassed Avengers: Infinity War to become the fifth highest-grossing film of all time with $2.054 billion at the global box office. In surpassing Spider-Man: No Way Home (which grossed $1.92 billion), the movie also became the "highest-grossing movie of the pandemic era," an unfortunate but duly impressive designation. Further stats: the film's $1.5 billion international gross makes it the fourth biggest movie ever, while the $603 million domestic gross clocks in at the 13th biggest movie in the U.S. It's the sixth-ever film to cross the $2 billion mark globally, per the outlet.
Of course, The Way Of Water is also reportedly one of the most expensive films of all time; The Hollywood Reporter claims the total price tag is around $600 million. Cameron himself mused that his pet project would have to be "the third or fourth highest-grossing film in history" to break even, though he later claimed that the figure he needed to justify his handful of Avatar sequels "is actually less" than the reported $2 billion. Now that the film is sailing past that mark, the exact details perhaps don't matter so much.
What does matter is that The Way Of Water fulfilled Cameron's prediction of making "all the fucking money" ("that's exactly what I said, in caps, ALL THE MONEY"). It now resides behind Avatar, Avengers: Endgame, Titanic, and Star Wars: The Force Awakens on the all-time box office list, with a pretty good chance of trumping Force Awakens' $2.07 billion global gross. That, plus a Best Picture nomination, means James Cameron is sitting pretty today. It's probably time to shut down the betting entirely.