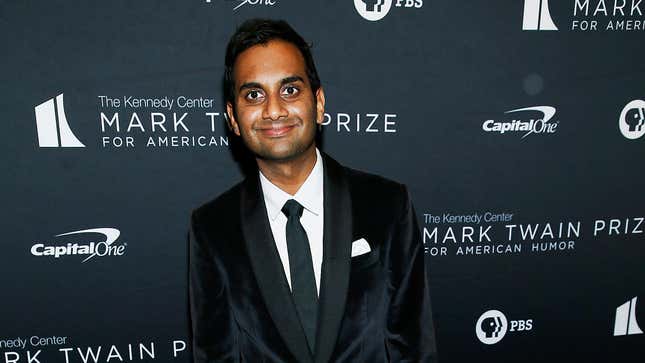 So far, the list of projects disrupted by the collective power of the Writers Guild Of America's ongoing strike has been largely confined to TV—which makes sense, given how much more television tends to be made, and on a much shorter timescale, than film. As far as movie projects are concerned, there's only been a handful, including Marvel's ever-delayed Blade, that have been delayed by the labor action—at least, until today, when THR reported that Aziz Ansari's new film Good Fortune is shutting down "indefinitely" due to the strike.
Why Christian Bale just can't quit David O. Rusell
The decision to shelve the film was handed down by studio Lionsgate yesterday, and while there's apparently some hope that the comedy—which will co-star Seth Rogen and Keanu Reeves, in addition to Ansari himself—will pick back up at some point, it presumably won't be until after the strike is resolved. Ansari himself wrote the script, and had, per strike rules, not been adding any additional material to it since the strike began, according to THR sources. There's no word on what the film itself is about, outside a logline describing it as a "high concept comedy about the gig economy in Los Angeles."
Filming on the movie was taking place this week in Los Angeles' Koreatown neighborhood—making it very easy for WGA picket lines to disrupt production. That also makes it, apparently, the first movie that was actually in the middle of filming to be delayed by the strike, rather than pre-emptively shut down by the studios as in other cases.
Meanwhile, Ansari has had a damn difficult time getting any first directorial feature off the ground over the last couple of years; Good Fortune is his second attempt, after his previous film, Being Mortal, was scuttled by Searchlight after star Bill Murray was accused of behaving inappropriately on the movie's set.