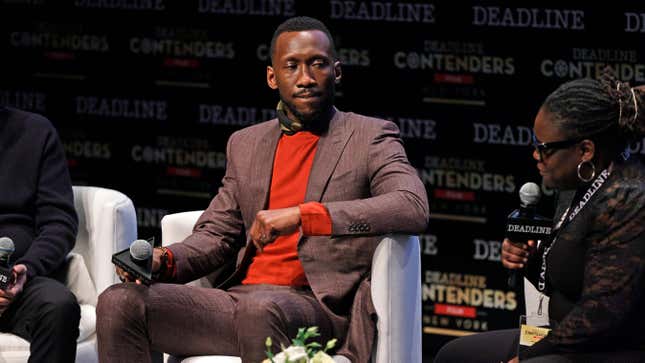 Marvel has, as far as we can tell, never met a reason to delay Mahershala Ali's (supposedly) upcoming Blade movie that it didn't like. In the past, the film—originally announced fully four years ago back at Comic-Con, amidst a whole slate of other projects that have since come and gone—has been delayed by pandemic woes and by the departure of its original director. And now, it's been hit by the delay du jour: The Writers Guild Of America's current strike.
The A.V. Club's weekly film round up
This is per THR, which reports that the Marvel film, which will star Ali as the latest version of the famed vamp-stakin' Daywalker, was the victim of bad timing once again. As we recently reported, Ali's old True Detective buddy, Nic Pizzolatto, had just signed on to the film to rewrite its current script, by Michael Starrbury. And despite efforts, Pizzolatto apparently couldn't get a new script done by the time the strike came around on Monday night, causing yet another delay for the film.
So far, this is the only Marvel project being directly delayed by the strike. The next two films on the docket, The Marvels—aimed at a November 10, 2023 release—and 2024's Captain America: New World Order are in post-production and the filming stages, respectively, meaning they're at least hypothetically past the scripting stages. (That being said, Marvel tends to build re-shoots into their schedules; it's easy to see how having a lack of writer on-hand might impact that process even for films that are close to completion.) Meanwhile, TV series Agatha: Coven of Chaos and Daredevil: Born Again are reportedly filming at the moment, with several others (including season 2 of Loki) already in post-production. The one big other question mark on the franchise's schedule right now is Florence Pugh's Thunderbolts, the movie set to go into production after Blade; THR reports the film is still "on track" to begin filming in Atlanta next month, although it's not clear if an extended strike might end up affecting that schedule.