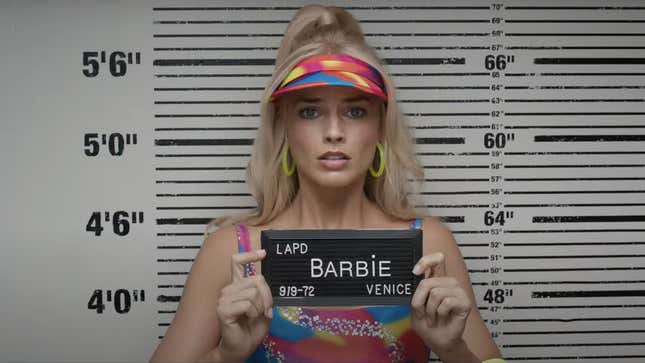 In Barbie world, yesterday, today, tomorrow, "and every day from now until forever" is the best day ever. The faux sun rises and falls over a pink plastic dreamland, and Barbie (Margot Robbie) and her friends enjoy dance parties and floating gracefully off roofs. But there comes a time when one must know the truth about the universe. No, really, Barbie has to know the truth about the universe. Kate McKinnon's messed-up Barbie doesn't give her much of a choice in the trailer for the new film, which debuts July 21.
"Barbie Girl" will not be in Barbie movie
Problem is, the truth of the universe is a lot less easily digestible than the perfectly orderly Barbie world. In the real world, Barbie gets slapped on the ass by a leering skater. In the real world, Ken (Ryan Gosling) engages with casual misogyny, believing he can perform an appendectomy just because he's a man and dismissing the female doctor who tells him otherwise. (Doesn't Ken live in a matriarchal society? Does Ken get red pilled in this movie?!) In the real world, Barbie is confronted with complicated philosophical concepts: "Humans only have one ending. Ideas live forever," she's told.
None of this is a particular surprise when the Barbie script is coming from the twisted minds of Noah Baumbach and Greta Gerwig. Gerwig, who also directs, wrote an "abstract poem" as part of her pitch for the film that "shares some similarities with the Apostles' Creed," and points out that Ken was created to "burnish Barbie's position in our eyes and in the world," which is "the opposite of the creation myth in Genesis." She told Vogue Barbie's character arc—thinking about death, getting flat feet, leaving to discover the truth of the universe—was inspired by the parenting book Reviving Ophelia: "How is this journey the same thing that a teenage girl feels? All of a sudden, she thinks, Oh, I'm not good enough."
But of course, the new trailer is not all serious theory and the depressing realities of sexual harassment. There are also colorful costumes, playful set designs, and a gaggle of gorgeous, enthusiastic Barbies. Plus, there's a first taste of Dua Lipa's new track from the newly-announced, Mark Ronson-produced soundtrack for the film. (The pop star will also appear on screen as Mermaid Barbie.) And if you listen closely, you'll hear a teaser of Nicki Minaj's contribution to the soundtrack, which seemingly samples Aqua's classic "Barbie Girl."
"If this got out, it could mean extremely weird things for our world," Will Ferrell's manic Mattel CEO says in the trailer. That might be a good summation of the Barbie movie phenomenon as a whole!