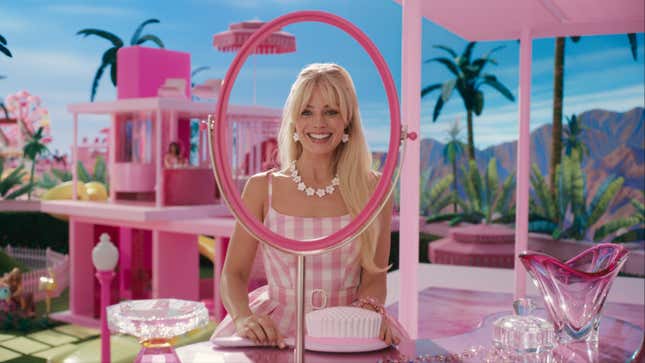 Alexander, stop complaining and step aside: this summer is all about Barbie's terrible, horrible, no good, very bad day. Only a few months away now, Greta Gerwig's Barbie is one of the most highly-anticipated films of the summer thanks to a stacked cast, a joyfully technicolor palette, and a whole lot of dance sequences. While the film's first trailer leaned into all the gleefully unassuming fun Barbie Land has to offer, a new teaser finds Barbie (Margot Robbie) facing some genuine obstacles, from the (gasp!) flattening of her permanently arched feet to the all-consuming philosophical crisis of inevitable death. Toys, they're just like us!
You can now buy a Weird Barbie — but isn't that missing the point?
The new teaser, which premiered at CinemaCon today, finds Barbie plagued with thoughts of death. If that weren't evidence enough that things aren't going well for Barbie, she also takes a cold shower, every brave apartment dweller's badge of courage. When Barbie tumbles off of her roof, tragically flattening her feet in the process, she officially needs a miracle. Luckily, when she recounts her recent spate of bad luck to a gaggle of Barbies, a good Barbie Land samaritan has a lead on where to find spiritual intervention, and recommends Barbie pay Weird Barbie a visit.
Weird Barbie—Kate McKinnon's split-happy, '80s coded version of the doll—gets a larger share of the spotlight in this teaser. Characterized as a Barbie who lives in a weird house and "smells like basement," Weird Barbie ultimately proves to be more of a guru for Robbie's Barbie than her chaotic vibe initially suggested, offering Barbie an important choice: go the way of the high heel, or the way of the Birkenstock (ostensibly, the latter option is what sends her to the real world).
Following up the joyful "Hi, Barbie!" silliness of the first teaser, Barbie's newest teaser also offers a little bit more context to Barbie's adventures in the real world; namely, that they are not in accordance with Mattel policy. As it turns out, Mattel—helmed by Will Ferrell—wants to stop all toys from leaving Barbie Land. The toy company proves they aren't messing around by arresting their own muse just shortly after she sets foot in the real world.
Between the existential malaise, the aggressive policing, and the clear lack of worker's rights in Barbie Land, it's clear the titular doll has quite a lot more depth to her than the average fantastic piece of plastic. Maybe Donald Glover's strange and somber Saturday Night Live news intern really was onto something.
Barbie premieres in theaters on July 21, 2023.
Matt Schimkowitz provided reporting on this piece.