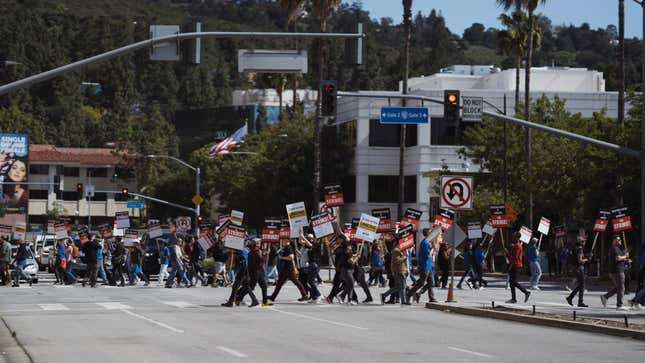 Ian Woolf, a producer on the Starz drama BMF ("Black Mafia Family"), has been suspended from his role on the series after threatening protesters who were picketing the show in Atlanta amid the writers strike. Writer Brian Egeston (The Game) detailed his experience with Woolf on Twitter, writing that the producer attempted to intimidate picketers by driving his car toward them. Others in attendance on the picket line have corroborated Egeston's story.
Harry Hamlin on "Mayfair Witches" and 80 For Brady
"We take acts of intimidation and threats of violence seriously and investigate them thoroughly," a representative for Lionsgate, the studio behind BMF, told The Hollywood Reporter. "As we continue to investigate, we have sent home the individual involved."
WGA Strike Captain Gabriel Alejandro Garza posted his own account of the events, writing that Woolf had angled his car at Egeston and Garza while the pair were standing on the sidewalk. "We have a recording of Mr. Ian Woolf identifying himself, and admitting he was trying to 'scare us.' Again, he admitted this twice." Writer Tom Smuts (Mad Men) also posted to Twitter about witnessing the event, saying that he watched as Woolf "desperately pleaded with the Teamsters of Local 728 to cross our picket lines, and they refused." Smuts added that Woolf then attempted to do the Teamsters' jobs himself: "opening trailers, turning on generators, driving picture cars to set, etc."
As it happens, Woolf is a former unit production manager on Mr. Mercedes, a Stephen King adaptation wherein a major plot point concerns a man who murdered 16 people by driving his car through a line of people queued at a job fair.
"Workers should not be threatened with physical harm when exercising their right to publicly protest and picket against unfair wages and working conditions," the WGA said in a statement to THR. "Anyone who harms or threatens to harm a member or supporter of the Writers Guild on a picket line should be held responsible for their actions. The WGA is working closely with members who were endangered during this incident to hold this individual accountable."