For a show about an unlicensed private detective, this third episode sure had little to do with unlicensed private detectiving. But I liked it. It was my favorite episode of the bunch, in fact, precisely because it did away with trying to get Jonathan into case mode and focused largely on character development. With a few tweaks to the story, this could have been the pilot. Should have been.
Because amidst all the flurry of Jonathan trying to launch his detective business, I forget that he's a tortured writer—it's one thing to have him tell us that he is, and it's another to actually watch him pursue that writing and deal with the excitement that comes with a possible game-changing opportunity. And tonight, that opportunity is the chance to edit a screenplay by silver fox Jim Jarmusch, who makes a guest appearance. Jarmusch knows fellow fox George, is a fan of Jonathan's first novel, and arranges a meeting at a fancy church loft party for writer-types. I haven't been too wild about this show's glorification of the publishing lifestyle; it's like the Entourage of a very specific New York niche, with George as a Johnny Drama type. But at least this particular party (for a film society) served a purpose other than showing George as a social dynamo: George introduces Jonathan to Jarmusch, who hands off a screenplay and asks him to call tomorrow; then, because he was talking to Jarmusch, a girl takes an interest in Jonathan and takes him back to her father's place.
Though she initially tells Jonathan she's a senior at NYU, she's actually in high school. A junior (who badly needs a date to prom, btw). With an extremely controlling, angry therapist father prone to storming in on her. Jonathan escapes out the bathroom window and avoids being recognized, but drops the screenplay behind the couch in the process. And because Jonathan has proven himself to be a sad victim to fate, he's forced to leave the scene completely and hatch a scheme to get the screenplay back another day.
Then Ray enters the action, and we finally see Zach Galifianakis reaching his potential on the show as the lovable, witty sad-sack. Ray has to see a therapist anyways (to get sex from his girlfriend, which he demands in the most mechanical way his voice can muster), so Jonathan asks him to go to the one where his screenplay now resides. An hour later, Ray emerges in tears, his penis pushed in all by itself (ha!). His dry, defeated acceptance of his new mental state frustrates Jonathan even more—he knows Ray's not gonna help anymore in this condition—so Jonathan once again enters the fold, this time as a purported patient.
G/O Media may get a commission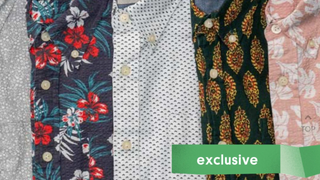 Grab three styles!
JACHS NY Summer Pack
Problem is, he uses his real name for insurance purposes, and the doctor sees the name on the screenplay and puts two and two together. The session itself, during which the doctor has Jonathan spitball his problems so he can provide rapid-fire responses, was a little obnoxious/self-indulgent, but pays off with the doctor walking Jonathan out, then punching him in the gut. The doc's not gonna do that during the session; he has ethics.
The whole Jonathan-loses-at-every-turn angle of the show is a hell of a lot more interesting when we know more about the guy and his friends, and "The Case Of The Missing Screenplay" provided some much needed information in that regard. "You must suffer from the terrifying clarity of your vision," Jarmusch says to Jonathan—and I'm beginning to see what he means.
Grade: B
Stray observations:
George was feisty tonight. "He's an editor at Womens Wear Daily," aka GQ.
"I wish we had met in high school." "I wouldn't have liked you then."
"You didn't sodomize her, did you?" "No!" "That's too bad… what constitutes sodomy?"
"Thank you, Boo Radley."
Finally! A peak into Jim Jarmusch's creative process.