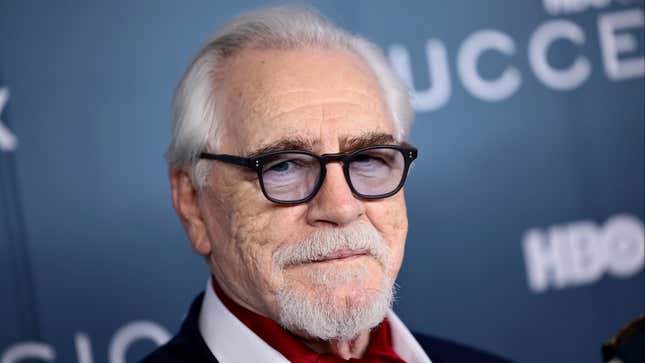 Despite the Roy family's Scottish heritage, last night's New York Succession premiere felt like a regular Irish wake: sad, loud, celebratory, and with liquor most definitely on the menu. All the major players from the cast—including Jeremy Strong, rocking an aesthetic that can only be described as "monastic hypebeast"—showed out to ring in the series' fourth and final season.
Why Christian Bale just can't quit David O. Rusell
But it's safe to say that no one had quite as much fun as Brian Cox, who divvied up his night between screaming in character as Logan Roy, ripping shots with Cousin Greg, and musing on the series he's "more than ready" to say sayonara to.
When Cox wasn't leaning into the revelry of the night, he took some time to discuss Succession, which he describes as both a "perfect" show and one he's "absolutely delighted" is ending.
"I think we've, you know, got to the point where the show has reached its natural closure," the actor told Entertainment Tonight, emphasizing that creator Jesse Armstrong wasn't afraid to cut the show off at its apex.
"A lot of shows outstay their welcome, and I think our show is perfect, and neat, in the way it is," Cox shares.
Cox's nonchalant reaction to the end of a Waystar Royco era doesn't exactly match up with co-stars like J. Smith Cameron, who recalls "a lot of people bawling" when the series wrapped up, or Sarah Snook, who has said she was "very upset" when she learned of the series' conclusion at a final table read.
But Cox is still thankful for the memories, especially with the cast. What can he say; he loves those little freaks! "I'll miss the people I work with," Cox tells ET. "They're the key."
Cox, of course, didn't confine his amped-up excitement to his own interviews; in multiple clips from the red carpet, Cox can be heard embodying Logan Roy with his gruff yell, whether bringing order to the red carpet or shouting in the background as Fisher Stevens, who plays Hugo Baker, tries to get through an interview.
"I can hear Brian [Cox] screaming," Stevens shares with a surprised smile, as he's clearly distracted by the chaos occurring over his shoulder. "He's having a good time."
Although Stevens can't help but wonder who Cox is screaming at, he easily chalks it all up to character building.
"I think he's having fun, right? He's acting," Stevens says. "He's Logan. [Cox] can do whatever the fuck he wants."
The fourth, and final, season of Succession premieres its first episode on Sunday, March 26, at 9 P.M. EST on HBO.