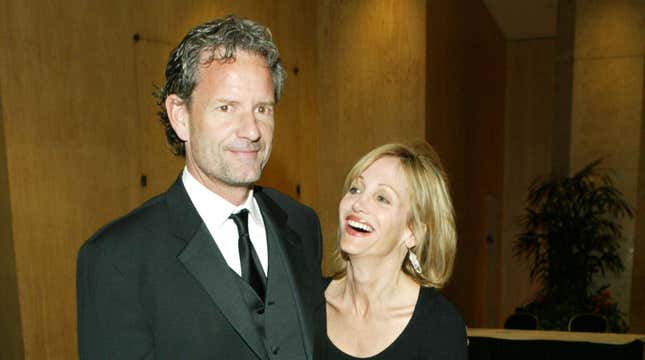 It's been two weeks since news of the death of Arleen Sorkin—the multi-talented actor, writer, and comedian best known, to most audiences, for serving as the voice of, and inspiration for, DC Comics character Harley Quinn—began circulating online. Now, Sorkin's husband Christopher Lloyd (the writer and producer of shows like Frasier and Modern Family, not the actor) has penned a beautiful tribute to his late wife, which ran in Variety earlier today.
Sanaa Lathan on "Alien Vs. Predator", Catwoman, and her directing debut
Writing about multiple decades with his wife, Lloyd paints a vivid picture of Sorkin as a tireless and energetic helper of others, endlessly willing to throw an impromptu fundraiser (complete with orangutan in attendance), or go to extremes to get her dad (a dentist with a deep desire to break into show business) an Emmy, even if she had to make him one herself.
Lloyd's tribute also illustrates all the odd little tributaries of Sorkin's life and career, from her run on Days Of Our Lives, to her long stints as a sitcom writer, to the period of her life where she had "a shoe modeling career during which her legendary 'perfect foot' led shoe designers to send her hundreds of pairs for her Cinderella-like assessment." Sorkin lived a determinedly unconventional life, and Lloyd allows readers an intimate glimpse at it—including little details like her tendency to buy multiple earthquake preparedness kits, or the fact that she ended up buying funeral plots in bulk.
Honestly, enough describing on our part: You should really just go read it. Lloyd touches on his wife's most famous role only once, at the end, writing that, "Her spirit never flagged. She loved people, believed in them. I'm not sure Harley Quinn, the now world-famous character based upon Arleen and whose original voice she provided, wasn't defined by that very quality, that achy loyalty, an unwillingness not to lead with her heart, come what may."