You'd expect that the transition from UCB stage show to years on public-access TV to an actual network would water down the little talk show that could, but the jump to Fusion TV for The Chris Gethard Show wisely doesn't polish things too much. It's slightly jarring to see something as anarchic as the first episode on an actual cable channel, though the means by which you might see it actually seem pretty anarchic, too: The first episode streamed live on the internet then was broadcast a couple of days later (on a channel that doesn't exist on two of the country's biggest cable providers). It can be seen on the fledgling network's website starting June 5, after which the second episode will already have streamed.
But back to the show, which perhaps you've now puzzled out how to watch. Gethard is a terrific, warm stand-up and a very funny writer, but he never seems quite as home as when he's in the midst of his diehard fans. They may not have huge numbers yet, but they're as committed to his weird world as Gethard himself is, which can make his show feel both completely unique and a bit impenetrable.
But the outside world is clearly welcome, though only weirdoes need apply: In his opening monologue, Gethard says that the show is for dorks, people with mild depression, people with severe depression, and jabronis. (The list is much longer than that, but you get the gist.) He wears a hand-drawn T-shirt that says "This is not important," though it's hard to piece together whether that's a way to keep himself from freaking out or an honest assessment. (Maybe it's both.)
The theme of this episode was "Show us the weirdest part of your body," and audience members—both in-studio and via Skype—stepped up to show off everything from a foot that could turn 180 degrees to the longest tongue in America. Ilana Glazer and Abbi Jacobson—old friends of Gethard's, who's a regular on their Broad City—sat on a couch, gamely playing along and never once plugging anything. (It's probably a fair estimation that few guests will be sitting on this couch hoping to have anything resembling a straight interview.)
G/O Media may get a commission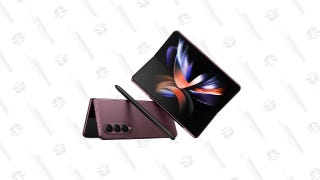 Save Up to $300
Galaxy Z Fold4
And then there was the "genital chamber," in which Skype-in guests showed Gethard and Glazer more intimate weird body parts while Jacobson sketched them—safely enough to be shown on TV. (Her penis-turtle was apparently spot-on, but we'll never know for sure, unless the show moves over to HBO.)
And besides musical guest The Front Bottoms—who Gethard embarrassingly introduced via a sponsor call-out—that was about it, and that was about all it needs. The Chris Gethard Show will live or die based on how well a bigger audience will take to the man whose name is right there in the title. It'll probably take a long while for that audience to reach critical mass, and hopefully he'll get that time to continue sharpening his weirdness but not losing his edge. There's clearly a straight line between the spirit of The Chris Gethard Show and David Letterman's early, weird days, when a generation of teen and young-adult comics found a kindred spirit on TV and slowly changed comedy forever. It's fitting that as Letterman's time ends, Gethard's is just starting. Whether the more hyper-paced world of 2015 will accept it is a huge question, but I'm glad he's asking it rather than trying to plug himself into a boring late-night world.
Stray observations:
— "The whole set is just stuff people sent us!"
— "All I'm seeing is a well-manicured penis."
— TCGS has the imprimatur of the Funny Or Die team, so hopefully that means it'll get a chance to grow.