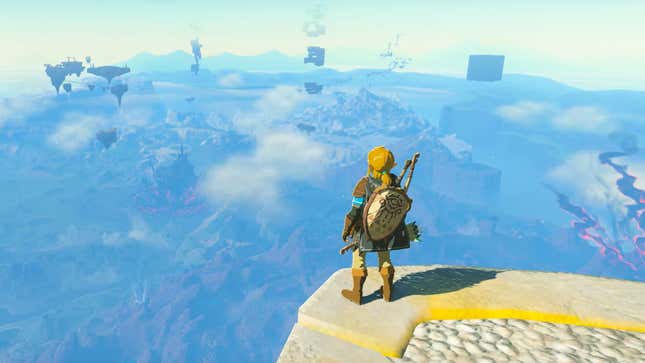 After six years of sleepless nights, Hyrulians around the globe can rest a little easier. The new trailer for the much-anticipated sequel to Legend Of Zelda: Breath Of The Wild is here, and it's got a whole water temple's worth of surprises and teases to whet appetites for another one of Link's whacky adventures.

Released as part of the February Nintendo Direct, The Legend Of Zelda: Tears Of The Kingdom trailer advertises a whole new type of Zelda game. In addition to being able to turn into a drop of water, Link also got a driver's license. Tears Of The Kingdom teases the famed adventurers driving skills with a new platform mobile that also flies and a skateboard that can glide around minecart tracks. Honestly, this is a wonderful addition because getting around Hyrule can really be a burden. As we all know, Link always tries to get his steps in, but that map is getting ridiculous. Through it all, Nintendo is sticking to this glider-based version of Link that allows the character to soar through the air and enjoy the all majestic scenery Hyrule has to offer. He's also got a canon, a canon for Ganon.

Mortal Kombat's director tells us how much gameplay went into making the movie
For the most part, the game looks like a proper follow-up to Nintendo's 2017 masterpiece. TOTK's trailer advertises the same painterly landscapes, bioluminescent creatures, and beautifully rendered horizons that promise hours of gameplay and discovery. We also hear a little bit from the titular princess. "But Link, I'm not sure you'll be able to stop him," she says. Listen, lady, this ain't Link's first rodeo.
Legend Of Zelda: Tears Of The Kingdom hits the Nintendo Switch on May 12, 2023.