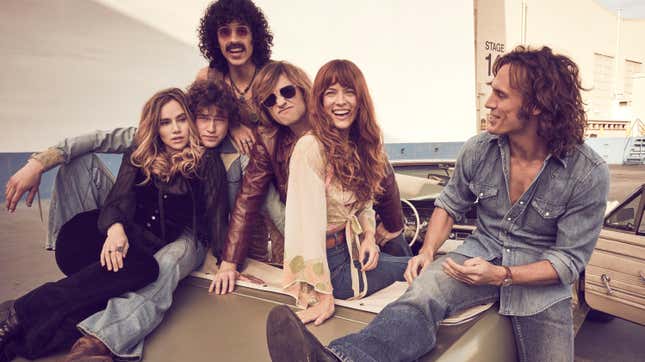 It's the moment we've all been waiting for, Taylor Jenkins Reid fans: we finally get to hear what Aurora actually sounds like. Even better, we get to see the band in action in a new teaser for Daisy Jones And The Six. The limited series, which premieres on Prime Video on March 3, stars Riley Keough and Sam Claflin, who are bringing the spirit of the '70s—and the best-selling novel—alive.
Dwayne Johnson on why "Black Adam" was the movie he had to make
The grainy, found-footage quality of the teaser trailer calls to mind the blurring of fiction and reality that is the book's faux oral history. The show is definitely continuing in that tradition with a mockumentary style: "Look, I know that I said that I would tell you everything," says Daisy (Keough) in a talking head clip. "But how much of everything do you really want to know?"
Daisy Jones tracks the meteoric rise and abrupt end of the Fleetwood Mac-esque outfit. But in the show, unlike the book, fans don't have to rely solely on the band's narration to tell the tale. The series promises to delve even deeper into the relationships, the songwriting, and the electric tension between Daisy and Billy (Claflin). "What if you wrote songs about the guy that maybe wants things that he shouldn't?" Daisy coyly suggests to her (married!) bandmate in one scene.
And if you want to be immersed even further into this world of music, drama, and fabulous '70s fashion, you're in luck. Atlantic Records is releasing a full studio recording of Aurora (this fictional band's Rumors), and the first single, "Regret Me," is available to stream now. The album, which can now be pre-ordered on vinyl, is produced by Grammy winner Blake Mills (with additional production from Tony Berg) and with songwriting credits from Marcus Mumford, Phoebe Bridgers, and Jackson Browne. With Keough and Claflin on vocals, the album features instrumentalists from Rilo Kiley, The Who, Nine Inch Nails, Pearl Jam, David Bowie, Elton John, Jeff Beck, The Wallflowers, and more, according to a press release. The LP includes 11 of the 24 original songs written for the series.
"We finally have Aurora. A stunning, nostalgic, timeless album that captures the drama, pathos, and yearning of the band's zenith and nadir all in one," author Jenkins Reid says in a statement. "A snapshot of time, intoxicating and dangerous. That delicious moment that you know can't last… Daisy Jones and The Six are real. And they are better than my wildest dreams."
Created by Scott Neustadter and Michael H. Weber and helmed by co-showrunners Neustadter and Will Graham, Daisy Jones And The Six also stars Camila Morrone, Suki Waterhouse, Sebastian Chacon, Josh Whitehouse, Will Harrison, Timothy Olyphant, Tom Wright, and Nabiyah Be. The show, produced by Reese Witherspoon's Hello Sunshine, premieres on March 3 with new episodes every Friday through March 24.