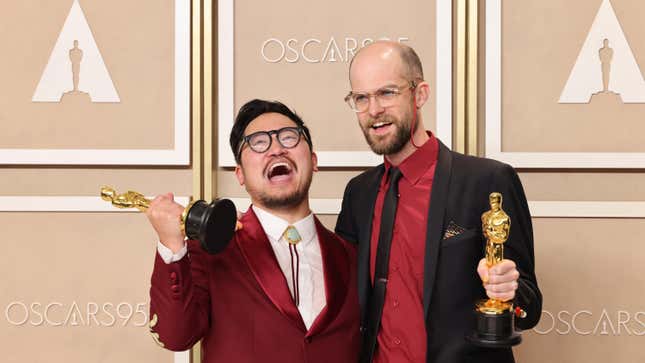 Fresh off of winning a bunch of Oscars, and probably with enough clout now to do whatever the heck they want, Daniel Kwan and Daniel Scheinert—a.k.a. Everything Everywhere All At Once directing duo Daniels—are apparently doing a Star Wars show… though they may have actually done it already over the summer. That's according to The Hollywood Reporter's sources, which corroborated a rumor from One Take News that says Daniels quietly directed at least one episode of the Jude Law-starring Star Wars series Skeleton Crew, which production started on over the summer and wrapped "in recent months" (meaning, if this is true, it would've been done long before Daniels received their Oscars crowns).
Gina Carano to star in movie backed by far-right slugs
Skeleton Crew, which we last heard about nearly a year ago, comes from Jon Watts, the director behind the Tom Holland Spider-Man trilogy. It centers on a group of kids who get lost in the Star Wars galaxy and have to find their way home, and though we still don't know who Jude Law would be playing, he's probably not one of the kids (also, despite being about kids, the show is not explicitly for kids). THR also notes that it will take place in the New Republic era, which is post-Original Trilogy, though we don't know if it will be closer to Mandalorian times or closer to Disney Sequel Trilogy times.
As for Daniels, their previous TV work includes Awkwafina Is Nora From Queens, Childrens Hospital, and NTSF:SD:SUV::. Assuming this is all real, it will be an interesting win for Star Wars as a brand—not just because Daniels won all of those Oscars, but because they're directors known for having some aesthetic panache. Star Wars could use a bit of that.