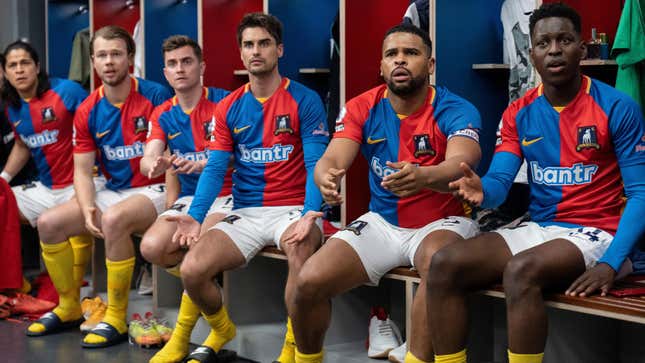 In the two and a half years since I texted a friend "Huh. They made a sitcom out of those NBC Soccer ads with Jason Sudeikis and ... it's actually pretty good?" Ted Lasso has become not just Apple TV+'s flagship comedy but an almost bewildering cultural monolith. Leaving work the other day, I saw a group of tourists all wearing AFC Richmond hats. The team (and its fictional players) have even been added to the FIFA 23 videogame, in case the one thing from getting you off the fence about the show was finding out how well Jamie Tartt handles on his weaker foot.
Ted Lasso has adjusted its footing behind the scenes more than most shows simply by virtue of the speed and fervor with which it took off. That's great for a product and a mixed blessing for a TV show attached to a sport that still hasn't quite achieved "Big In America" status.
Now, as much as I'd like to get into the intricacies of league football in the U.K., I've been told in no uncertain terms to knock that shit off, so let me be blunt: It's extremely fucking hard to win the Premier League. This isn't like the NBA, where a good rebuilding summer, shrewd trades, and a favorable draft can turn a clown team into a playoff monster. The "big six" at the top of the Premier League's financial and historical hierarchy (Arsenal, Chelsea, Liverpool, Man City, Man United, Tottenham Hotspur) have spent billions of dollars and cashed in decades of influence to make sure there's always an us-and-them dynamic at the top of English football. The 20-year stretch from 1995 to 2015 saw just four teams lift the trophy: Man United, Chelsea, Arsenal, and Man City.
Then came Leicester City.
Perhaps the most salient quirk of the Premier League compared to traditional U.S.-based leagues is relegation, which Ted Lasso has thankfully explained and even shown already. It also helpfully tells us in the season three premiere that 70 percent of all newly promoted teams to the Premier League go straight back down again the next year.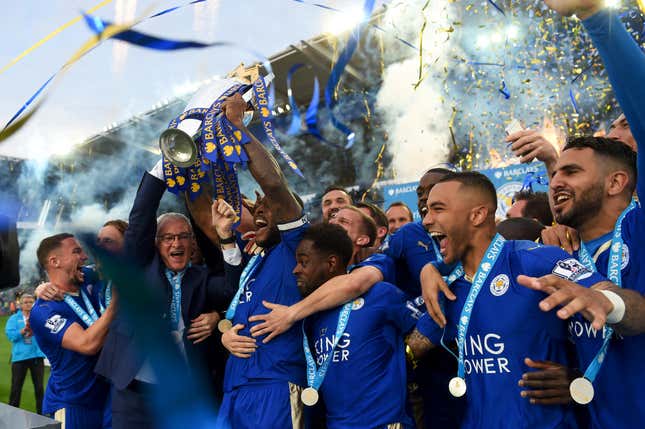 Leicester was a mainstay of the English Championship—the second tier, where the three worst Premier League teams get yeeted to at the end of each season—before a good run saw them join the Premier League for the 2014-15 season. There were signs of life that first year, too. A 5-3 victory over Manchester United in their first month back remains one of their most famous wins, and despite languishing in the relegation zone pretty much all season, a magnificent little run (seven wins in their final nine games) saw them hang on by their fingernails to remain in the Premier League for the 2015-16 season.
While Leicester didn't have a Lasso-esque philosopher at the heart of the club, they did hire a manager with questionable clout in Claudio Ranieri. Nicknamed "The Tinkerman" due to his reputation for adjusting his lineups and tactics game after game, Ranieri was seen as something of a mid-tier journeyman. Virtually every sports outlet listed Leicester as favorites to finish bottom of the league, with their winning run at the end of the previous season seeming more like a final push than an indication of momentum. Their odds of winning the Premier League? Laughable, though the official money line was 5,000-1.
And then, let's call it like it is: the most unlikely thing in the history of sport happened: Leicester won the league.
There was no real magic formula, either. Leicester simply played good football in a style that suited them, and the explosive duo of striker Jamie Vardy and winger Riyad Mahrez kept the goals flowing. Ranieri shed the Tinkerman image and stuck to a starting 11 that grew in confidence until, magically, they sat atop the Premier League at Christmas. Having been in dead-last exactly one year prior. That's never happened before.
So now that we know 2023 is the last we'll see of Ted and the Greyhounds, I've got my own problems with Ted Lasso's current run, creatively, but I leave that to people smarter and more insightful than me to pick apart. All this is to say, though, that there's enough similarity here to suspect Ted Lasso wants to do the same thing with AFC Richmond, a club that seems designed to be comparatively around the same size and stature as Leicester, with a just-as-unlikely mountain to climb.
After going their first six matches unbeaten, Ranieri gave an interview to Gary Lineker, a longtime Leicester fan and the host of Match Of The Day, Britain's most quintessential football show. "We just want to play well and stay in the Premier League," Ranieri said. "So that's it, then? Not Europa League? Not Champions League?" Lineker asked, referring to the prestigious European competitions for teams who finish in the Top 4 (Champions League) or 5 (Europa League). Ranieri laughed. "Thank you Gary, but it's not possible." By the end of Ted Lasso, Richmond may very well do the unthinkable, but it's thanks to Leicester City that it's no longer the impossible.