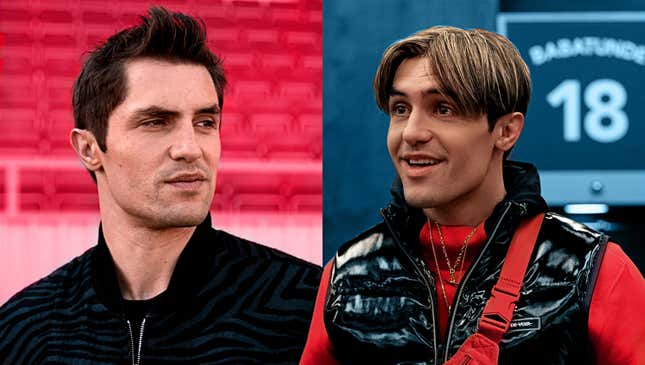 Listen up, lads: Ted Lasso's writing has worked its magic again. The show has evolved Phil Dunster's cocky freak Jamie Tartt into one of its most fascinating characters, allowing the actor to inhabit a compelling, multi-dimensional role. Who would've thought after watching the first season back in 2020 that Jamie would be the one pacifying his friends—and that he'd make sense doing just that? "It's all poopy," (pronounced by him as "poo-peh," of course), Jamie tells his fellow Richmond AFC players in the third season premiere, his way of spreading Ted Lasso's (Jason Sudeikis) advice not to let shit distract anyone.

Young Mazino talks "Beef," needle drops, and karaoke
It's a real sign of growth compared to Ted Lasso's pilot, which opens with Jamie expertly playing football on his home turf. Perhaps that first scene is not as memorable anymore because the camera then pans to club owner Rebecca Welton (Hannah Waddingham). She's redecorating her new office and hiring a wide-eyed Ted as the coach, kickstarting the show's award-winning journey.
In early episodes, Ted Lasso makes it clear that Jamie—an essential player for the team—is not a team player at all. His first words in the pilot's half-hour? An appropriately casual "fuck off." Jamie initially comes across as a typical douchebag whose ego trumps everything else. He bullies fellow players (who despise him in return), doesn't take his relationship seriously enough (no wonder Keeley leaves him for Roy), switches teams, and has a brief stint on a dating reality show. He's a thriving himbo, so it's easy to be irritated by him. (That heavy Mancunian accent Dunster puts on for the role only adds to it.)
To its credit, Apple TV+'s comedy hints at hidden depths underneath Jamie's prickliness, like when he sweetly talks about his mother in season one's "Two Aces." Then, a tragic aspect of his upbringing is expanded in the sophomore run with the arrival of Jamie's abusive dad, James (Kieran O'Brien). The immense pressure Jamie feels is bubbling under the surface before erupting in episode eight, "Man City," in a locker room kerfuffle. Never has a slap—from a son to his father, no less—felt this satisfying. James later beats up Coach Beard (Brendan Hunt) in a filler outing that further sheds light on his destructive behavior and how it's impacted his son's defense mechanisms.
However, Ted Lasso has gradually pulled down those mechanisms, making it easy to empathize with Jamie. It's all added up to a rewarding arc for him as the show nears its supposed endpoint. In season three, Jamie is more settled into his position at Richmond. He's sufficiently apologized for his tormenting tactics; he's bonded with his teammates and coaches, especially Sam Obisanya (Toheeb Jimoh) and Roy Kent (Brett Goldstein), and has evolved into a decent human being. He's still haughty and full of one-liners, but his behavior's not irksome anymore, because Ted Lasso and Dunster have put in the work, with the actor striking a commendable balance between being utterly ridiculous and utterly vulnerable.
Jamie's charming character development is a pleasant surprise in the final season, like in the second episode when he finds out Keeley (Juno Temple) and Roy have split up. Instead of running after his ex—to whom he confessed his feelings not long ago—he genuinely checks in on Roy and offers a hug. The result is hilarious because Roy (obviously) punches him instead, with Jamie going, "I'm sorry, I forgot how skittish elderly people could be because of the war." Hey, he's a nice person now, but he can still unwittingly dole out the snark.
The rewarding payoff here feels pertinent because season three introduces a new star player for Richmond in Maximilian Osinski's Zava. Jamie's insecurities flare up, and the third outing ends with Roy agreeing to train him (after Jamie unironically explains that prima donna and "pre-Madonna" aren't the same). But Jamie's not throwing tantrums like he would've before.
His arc is an interesting parallel to Nate Shelley's (Nick Mohammed) heel turn last season. Richmond's former kitman went from being a soft-spoken, Jamie-bullied victim to a public Ted Lasso hater once he felt less valued and appreciated by the new coach. The journey for Nate the Great, a.k.a. Wonderkid, from Richmond to West Ham mirrors Jamie's, a Man City transplant. But if there's one thing we know about Ted Lasso's writers—with Jamie as a prime example—a redemption arc might be in Nate's future.
In the meantime, as Ted Lasso brushes with various storylines, including the fate of Keeley and Roy's relationship, Rebecca's fierce need to beat Rupert (Anthony Head), Nate's antagonism, and Ted finally focusing on his mental health, Jamie has transformed into a breath of fresh air for the series. Thanks to Dunster's affability, he's reliable as both a quick-witted jokester and, in true TL fashion, a heartwarming character—even if they'll never give him a hairstyle we can root for.