Every day, Watch This offers staff recommendations inspired by a new movie or TV show coming out that week. This week: Inspired by HBO's High Maintenance, our favorite episodes about pot.
Nurse Jackie, "Apple Bong" (season two, episode four; originally aired 4/12/2010)
By the time Nurse Jackie premiered on Showtime in 2009, the maverick doctor who plays by their own rules and sacrifices procedure on the altar of patient care had long ago become a television cliché. But there wasn't a TV character quite like Jackie Peyton (Edie Falco), a nurse smarter and more talented than the smug white coats buzzing around the emergency room. As one of Showtime's first anti-heroines, Jackie had to also have a fiercely kept secret, which in her case was a raging addiction to almost any drug you put in front of her. What started as a reliance on painkillers brought on by years of grueling work in a widow-making hospital rotation blossomed into an indiscriminate addiction that constantly risked destroying her personal and professional lives.
To Jackie's credit, though, at least she's no hypocrite. In "Apple Bong," she breaks the rules yet again to help a patient make his days a little bit easier. The patient, Martin Vobernick (Patrick Breen), is suffering from stage three lymphoma and can't keep his food down due to chemotherapy. Jackie wants to help him out with some appetite-stimulating marijuana, but her foil, the insufferable Dr. Fitch Cooper (Peter Facinelli), is staunchly against it. What Cooper doesn't realize is that reminding Jackie of the codes of conduct is tantamount to daring her to break them.
So she sneaks Martin into the back of an ambulance driven by Lenny (Lenny Jacobson), a pothead par excellence. Jackie goes to work on a Red Delicious, turning it into a drug delivery system, and teaches Martin how to smoke it. Lenny asks Jackie how she knew he had pot handy, and she's practically insulted by the question, having seen his snacking habits. "Lenny, Mountain Dew and Doritos? Please."
G/O Media may get a commission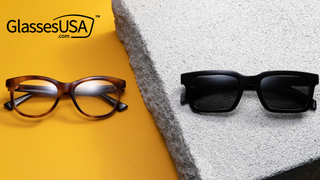 60% off frames
GlassesUSA.com Back to School Sales
Within minutes of his first toke, Martin feels his appetite coming back and Jackie has ensured that yet another patient leaves feeling better. As with the best anti-heroes, Jackie's renegade tendencies can't be separated from her finest instincts. If she was the type to follow the rules, she wouldn't be stealing pills from the hospital pharmacy, but she also wouldn't have done what it took to make Martin feel well again. But the personal toll on Jackie is difficult to measure. Unfortunately for Jackie, breaking the rules might cure her patients, but it only makes her disease that much stronger.
Availability: "Apple Bong" and the entire run of Nurse Jackie is available to stream through Netflix and Hulu and for digital purchase.