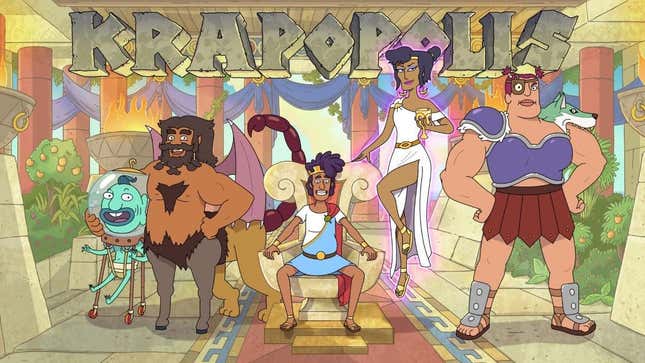 Dan Harmon's Krapopolis, a show about a(n obviously fictional) very, very old city, is doing some pretty new-fangled stuff. This past spring, it was announced that the animated series would be the first "curated entirely on the blockchain"–meaning, apparently, that "super fans" will be able to purchase NFTs in the form of "one of a kind" GIFs that the rest of the world's Krapopolis super fans definitely won't be able to just download from Google (or the header of this story).
But that's not all! Hold onto your togas, super fans: the show just added another headline to its historic run. Per Deadline, Fox has already renewed Krapopolis for season three. "We're so bullish about the work that we want to support and its ability to find an audience and succeed," said Fox's President of Scripted Programming, Michael Thorn. "While [a third season order] is atypical, it was a no-brainer for us with Krapopolis."
But wait, you might be asking, I've literally never seen this show or heard anyone talking about it. No, you're not crazy. Krapopolis hasn't yet aired a single episode, despite all of the network's hype around it. It is now set to premiere sometime in the 2023-2024 season.
Still, Thorn has high hopes for the series, which centers around a dysfunctional group of humans, gods, and monsters trying (and likely failing) to run an ancient city without killing each other. "If we dream big," he predicts that one of the show's central characters could end up on "the Mount Rushmore of animated figures" alongside the likes of Homer Simpson, Bob Belcher and Peter Griffin.
Candidates f0r this lofty achievement include a human king voiced by Richard Ayoade (The IT Crowd), a trashy goddess voiced by Hannah Waddingham (Ted Lasso), a mantitaur–whatever the hell that is–voiced by Matt Berry (What We Do In The Shadows), and a few others.