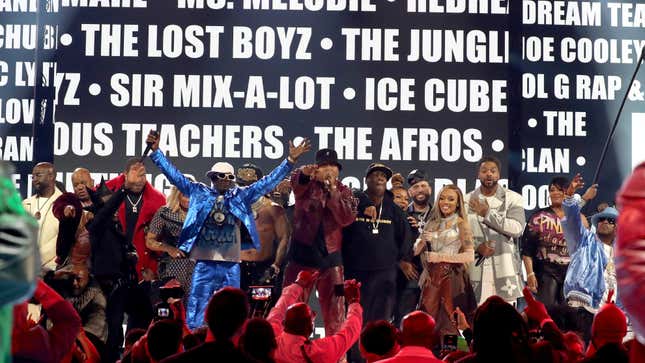 During the 2023 Grammy Awards, LL Cool J and Questlove introduced a celebration for the 50th anniversary of hip-hop, bringing out a massive group of hip-hop icons to run through a couple lines of one of their hits, maybe do some slick choreographed dance moves, and then promptly step aside so the next famous person could come out. It was a big event, and one of the highlights of the otherwise straightforward show, but there a lot going on. So, if you want to just cut to the chase and find out who all was involved (or if you're wondering if your favorite stopped by before you go the trouble of looking up a video of the tribute), here's pretty much everyone who was there (though it all moved pretty quickly and it was hard to clock every single person who made an appearance, so there may have been some notable cameos we missed).
Big Boi ("ATLiens"), Busta Rhymes ("Look at Me Now"), De La Soul("Buddy"), DJ Drama, DJ Jazzy Jeff ("Rock the Bells"), Missy Elliott ("Lose Control"), Future ("Fuck Up Some Commas"), GloRilla ("FNF"), Grandmaster Flash, Mele Mel, Rahim & Scorpio ("Flash to the Beat" and "The Message"), Ice-T, Lil Baby ("Freestyle"), Lil Wayne ("A Milli"), Swizz Beatz & The Lox ("We Gonna Make It"), Method Man ("Method Man"), Nelly ("Hot In Here"), Public Enemy ("Bring The Noise"), Queen Latifah ("U.N.I.T.Y."), Run-DMC ("King Of Rock), Salt-N-Peppa ("My Mic Sounds Nice") Scarface ("My Mind's Playing Tricks on Me"), Black Thought, Questlove, LL Cool J ("I Can't Live Without My Radio"), and Too $hort ("Blow The Whistle"). There were also nods to artists who weren't included, like a Beastie Boys T-shirt that was highlighted during the Run-DMC segment and a rolling list of names onscreen behind everyone.
Before the show started, Questlove spoiled that another very famous person was set to perform: Will Smith, who would've been making a very headline-generating return to awards shows after... that thing that happened at another awards show last year. Unfortunately, he had to pull out because of a scheduling conflict with production on the recently announced Bad Boys 4.