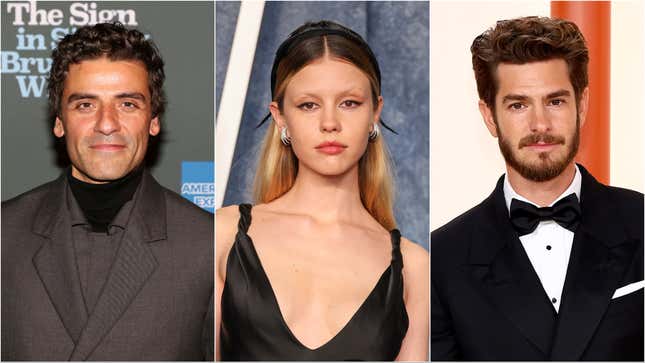 For his next film, Guillermo del Toro has his eyes on a scary good cast as Oscar Isaac, Mia Goth, and Andrew Garfield are all in talks to board his adaptation of Frankenstein. Del Toro will write and direct the live-action film for Netflix, his third project in part of an overall deal with the streamer.
While the castings are not set in stone just yet, sources with Deadline confirm that Isaac, Goth, and Garfield are all interested in the film. The script for the project is still in development as well, so it's unknown just how much del Toro plans on playing with the Mary Shelley story and who will be playing who (although we think Goth would be a great Shelley/Bride Of Frankenstein akin to Elsa Lanchester in the sequel The Bride Of Frankenstein).
Although Shelley penned the famed sci-fi novel in 1818, the story's characters became a pivotal Universal I.P. with James Whale's 1931 adaptation starring Boris Karloff. Along with Dracula (1931), Frankenstein laid the foundation for what would become known as Universal Classic Monsters.
Del Toro previously offered his own spin on the tale of Universal's Creature From The Black Lagoon with The Shape Of Water, starring Sally Hawkins, Octavia Spencer, Michael Shannon, and the famed Doug Jones. Del Toro's Best Picture winner offered an unconventional take on the classic monster tale, as he'd long imagined a world where the Gillman finds love.
"I've had this movie in my head since I was 6, not as a story but as an idea," he told Los Angeles Times in 2017. "When I saw the creature swimming under Julie Adams [in Creature From the Black Lagoon], I thought three things: I thought, 'Hubba-hubba.' I thought, 'This is the most poetic thing I'll ever see.' I was overwhelmed by the beauty. And the third thing I thought is, 'I hope they end up together.'"
Maybe del Toro's version of Frankenstein will see the damned monster actually find companionship. We could even avoid him killing himself and his bride in a fiery blaze due after confronting the horrors of their own inhumanity. However, we do hope there's a faithful recreation of the scene in which the monster smokes for the first time as seen in The Bride Of Frankenstein.
We're certainly living in an age of renewed interest in the Universal Classic Monsters, starting with The Invisible Man in 2020. Over the last year, new adaptations of Dracula, Frankenstein, and even Wolfman have entered various stages of development, with del Toro's vision joining the bunch.