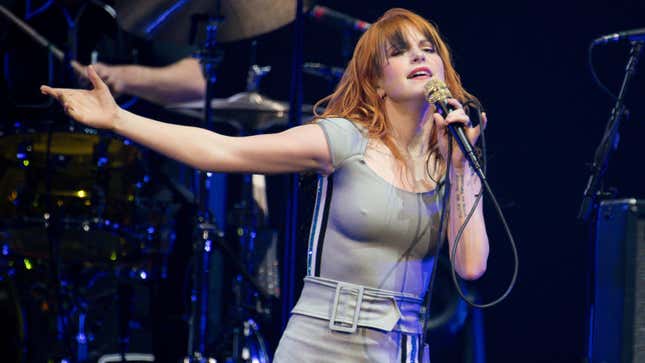 Hayley Williams of Paramore has shared some belated thoughts on evicting a pair of fans from the band's Madison Square Garden show on May 30. After Williams noticed a disruption in the crowd, she stopped singing, telling the fans, "Yes, I will embarrass both of you… Both of you need to find somewhere else to take care of that shit because that's not happening here." Days later, Williams posted on Paramore's Discord server expressing regrets about how she handled the situation.
Madonna takes on Tennessee's anti-drag laws
Williams wrote that she hadn't fully processed the moment, but said of reacting in real-time, "Without the opportunity for a proper back and forth (and with a looming, strict show-curfew in the back of my mind), I bared my teeth like a mother wolf. I embarrassed the hell out of these two people, without truly knowing what the situation was. Then, as a group—all 25,000 of us or so—exiled these people from the show in record time."
The singer shared her concerns that she'd abused her responsibility and "hurt those two in a way that will outlast the momentary discomfort of poor concert etiquette." She wrote, "When I saw their faces in the video, I didn't see the smug smiles that some commenters criticized them for. I saw embarrassment and I cried for them. I'm telling you, I haven't stopped thinking about it. So, if you are those two people… I am sorry for whatever shame or embarrassment I may have caused you. I'm not telling you that it's perfectly fine to act entitled or ignorant at a show."
Williams recalled her own days as a fan attending hardcore shows and how different the environment could be, but argued that concerts have evolved. "I'm really not even saying I think there is a 'right' or a 'wrong' way here. I'm just saying that I'm sorry that I handled the whole situation like the arbiter of the same type of cancel culture that doesn't often teach or lead in any productive way," she said.
"I hate that there isn't always a simple answer to even the world's silliest problems. A 'good' or a 'bad' bin to use for clean up. I hate that the only thing I really know to say to people I deem racist or bigoted in any way is 'you're dead to me' when I know that message isn't the kind that's going to change a hateful heart," she wrote, referencing another call-out at a concert where she denounced Ron DeSantis supporters. "How can I feel soft and tragic about it in one moment and ragey and rigid the next? Because that's human."
Williams concluded her thoughtful reflection by opining that public shaming (at least in this case) probably wasn't going to change anyone's ways, and imploring fans to behave respectfully at shows. "I don't want us to have to stop a show for physical aggression ever again," she wrote, nevertheless adding, "Rest assured, I will still have a person removed if necessary. I'll just try with all my heart not to make it seem like some biblical era public execution next time."