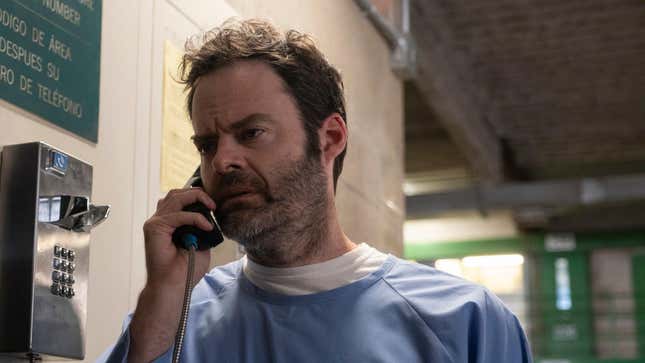 It makes sense that Barry's "irredeemable" hitman Barry Berkman is losing his mind in jail—what is he to do with all that guilt, right? It also makes sense that Bill Hader is doing his absolute best to deliver Barry's gut-wrenching pain; after all, it's his final chance to win another Emmy for this excellent dark comedy. The actor, who previously won in 2018, is primed for another trophy based on the first trailer for Barry's fourth and final season alone. Think: screaming matches, sobs, and grief-stricken expressions. We're already in.
Barry season four kicks things in high gear for our villainous lead, who is finally behind bars for his many murderous sprees. In case you need a reminder: the third season ended with Gene (Henry Winkler) and Jim Moss (Robert Ray Wisdom) teaming up to take Barry down for killing Janice (Paula Newsome) back in the season one finale. Betrayed by his beloved acting coach, he's obviously dealing with an array of emotions in prison. It's evident in the trailer, with Barry roaming around the hallowed halls and unleashing in front of the mirror. In voiceover, he still suggests to himself that he's a good person.
Will Barry stay in jail permanently, or will he figure out how to escape? Things aren't looking good for him either way. If he's inside, he'll have to face his former mentor, Fuches (Stephen Root). If he breaks out, Barry will have to deal with taking the fall for Sally (Sarah Goldberg), who committed her own little murder in the third season finale—it was for self-protection, if that helps.
The trailer reveals that while Sally may have run away to her hometown in Missouri, she can't stay away from the allure of Hollywood for long. Barry's trailer also sheds more light on Noho Hank (Anthony Carrigan) and Cristobal (Michael Irby)—they're still going 50/50, you guys!—as they figure out how to defeat their enemies and stay together. (Aside: Noho Hank's fashion remains impeccable as well. Pause at 00:37 if you don't believe us.)
Created by Hader and Alec Berg, Barry became a critical hit ever since its 2018 premiere. Season four was confirmed as the final one earlier this year, with Hader telling Variety that "a very clear ending presented itself" while they were writing the episodes. Sarah Burns, D'Arcy Carden, James Hiroyuki Liao, and Patrick Fischler round out the cast.
Barry wraps up on May 28, which means it hits the deadline for Emmys consideration (May 31 each year). Will this be the year Hader grabs another win? He faces some stiff competition, with potential competitors including Ted Lasso's Jason Sudeikis, The Bear's Jeremy Allen White, Abbott Elementary's Tyler James Willaims, and Only Murders in The Building's Steve Martin and Martin Short. It will be an especially interesting battle royale as Hader and Sudeikis play their fan-favorite roles one last time.
As we wait for the award-season face-off, Barry returns for season four on April 16 on HBO.