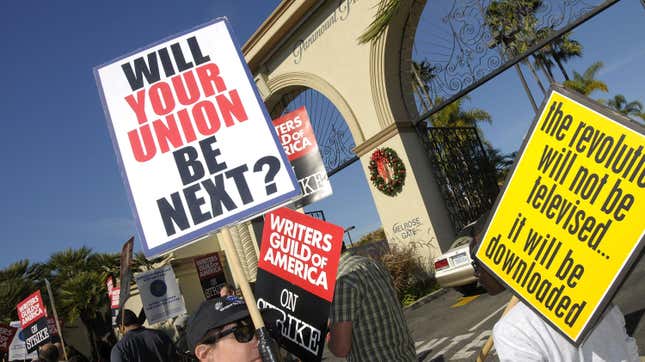 The current contract for the television and film writers of the Writers Guild of America expires on May 1. That means that if negotiations don't succeed between the WGA and The Alliance of Motion Picture and Television Producers (the "entertainment industry's official collective bargaining representative" that represents the major American TV and film production companies), the guild will officially go on strike May 2—an outcome that looks more likely with each passing day. So what will that mean for Hollywood, and what does it mean for the audiences at home?
Young Mazino talks "Beef," needle drops, and karaoke
It won't mean the same thing it did in 2007, when a 100-day strike ground the entertainment industry to a halt. Back then, the effects of a strike were not only noticeable but had a long-lasting impact; shows went off the air, and some of them never came back.
To be clear, the guild is calling for the same kind of work stoppage that occurred back then. The WGA released its list of strike rules on Tuesday (per Variety), dictating a complete halt to any writing, pitching or negotiating for work during a strike. Non-WGA members who use the strike as an opportunity to do screenwriting work will be barred from joining the guild in the future, a deterrent to keep aspiring writers from crossing the picket line.
Meanwhile, other Hollywood unions including SAG-AFTRA, the DGA, IATSE, and Teamsters Local 399 have expressed their support for the WGA, with the latter group pledging not to cross the picket line. (Members of the other unions have no-strike clauses requiring them to show up to work, at least until the expiration of their own contracts.) Shutting down the writing side and receiving solidarity from Teamsters (who include studio drivers, dispatchers and warehousemen) will absolutely throw a wrench into the Hollywood machinery.
However, as writers have warned and Ted Sarandos has reassured, studios have a backlog of content to feed to their audiences in the case of a work stoppage.
The Bear writer Alex O'Keefe recently told The A.V. Club that the streaming "mini room" system has allowed companies to collect unmade scripts that could be moved into production. But even if solidarity from other unions did gum up the production side, the studios likely still have other avenues to mitigate a strike's effects. Netflix, for instance, already plans its slate far enough in advance that co-CEO Sarandos confidently proclaimed "we can probably serve our members better than most" in the event of a lengthy strike. "We really don't want this to happen, but we have to make plans for the worst, so we do have a pretty robust slate of releases to take us into a long time," he said.
Studios can also look internationally to fill the gaps; the last strike saw a rise in programming of Canadian series on broadcast networks (per The Hollywood Reporter). Netflix—which has been, time and again, the canary in the coal mine of the streaming era—announced earlier this week a plan to invest major money into South Korean series, a veritable treasure trove of content that will certainly help keep the streamer afloat.
This is not to say the strike will be completely invisible to a casual television viewer. Late-night talk shows and Saturday Night Live will have to close up shop. Network shows still in production would have to close their writers' rooms, too, but crucially, there are fewer of those than there used to be. Now, television's formula favors shorter seasons that often complete the writing process before filming even begins. As such, studios may be able to feed their audiences a steady stream of content throughout a potential strike. Perhaps this time around, the WGA and its allies will have to find new ways of communicating the urgency of their mission to the folks at home. We'll find out if that will be the case soon enough.